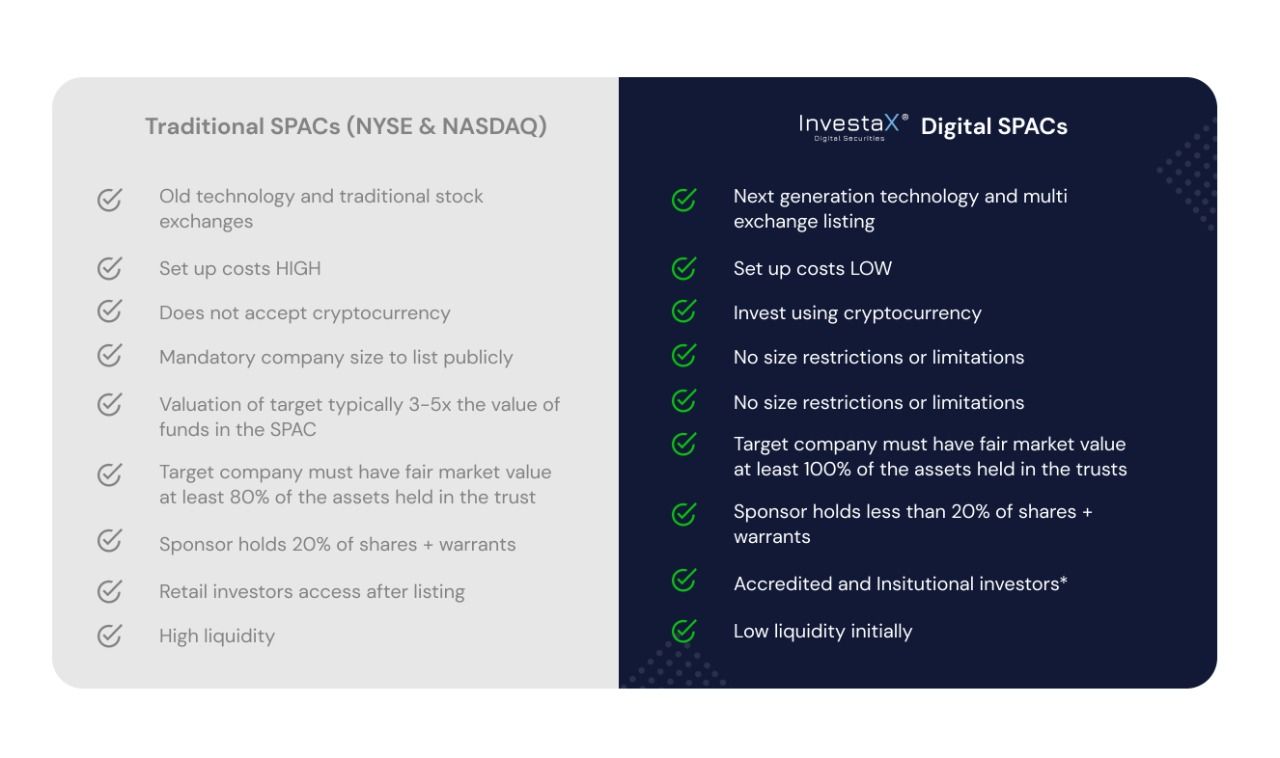 (Blog) World's 1st Digital SPACs
InvestaX, pioneers and creators of next generation technology driven investment products announces the launch of the first Digital SPACs (special purpose acquisition companies), using smart contracts and blockchain technologies.
InvestaX is a Singapore-headquartered, licensed investment platform for Digital Securities Offerings (DSOs) of global private markets deals, including venture, private equity and real estate. We provide key infrastructure to digitize real assets so you can use them to buy, sell, trade, borrow or lend instantly, across the world, 24 x7.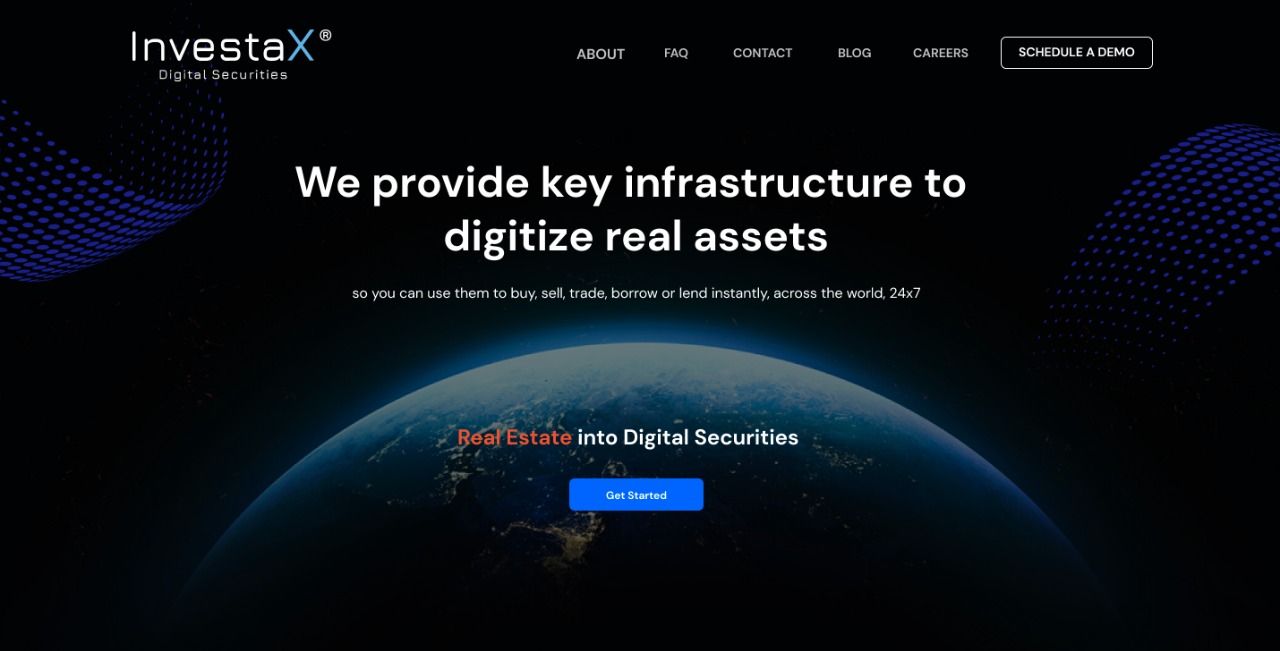 Special Purpose Acquisition Companies ("SPACs") played a critical role in U.S. capital market growth in 2020. There were 248 SPACs launched, raising an aggregate of $83 billion in proceeds. The beginning of 2021 witnessed an acceleration of SPAC activity. In January and February alone, roughly $60 billion was raised by 189 SPACs according to "Morrison & Foerster LLP 4th March 2021".
Digital SPACs (using smart contracts, blockchains and digital platforms) are going to play an integral role in providing necessary capital to growing companies in new  industries and also give investors access to unique and leading technology companies building the infrastructure for the digital era.
InvestaX and partners will offer Digital SPACs targeting cryptocurrency infrastructure, blockchain and DLT start-ups, games and e-sports, space, robotics, AI, and other future looking industries that are reshaping the 21st century.
Digital SPACs will bring many similar elements of traditional SPACs, but offer a faster, lower cost, more flexible alternative, at the same time bringing much needed capital to smaller start-ups in new industries, and greater transparency and better terms for investors.  Issuing a Digital SPAC using blockchain will allow for greater distribution channels, especially for global investors who are prevented from, or prefer not to invest in traditional SPACs listed on USA stock exchanges.
What is a Digital SPAC?
A special purpose acquisition company is essentially a shell company set up by investors with the sole purpose of raising money through an "IPO" to eventually acquire another company. When the acquisition occurs the "private" company is now "publicly" listed. The SPAC does not have operations or assets, it just holds the investment in escrow until an acquisition occurs. The "digital" represents the shares of the SPAC, which are issued in tokens. The listing is on licensed digital platforms that uses next generation technology blockchain and DLT. (For more information on traditional SPACs here is a simple breakdown from CNBC)
Like any investment product, there are many different views and perspectives on the value and purpose of SPACs and they certainly do have challenges and some characteristics that are not always optimal for investors, you can read more about them here in this SPAC take down "Is there a crack in your SPAC" from Grit Capital's Genevieve Roch-Decter.
InvestaX is addressing these issues and significantly improving upon them with the design and structure of the Digital SPAC. Several of the main differences are outlined below: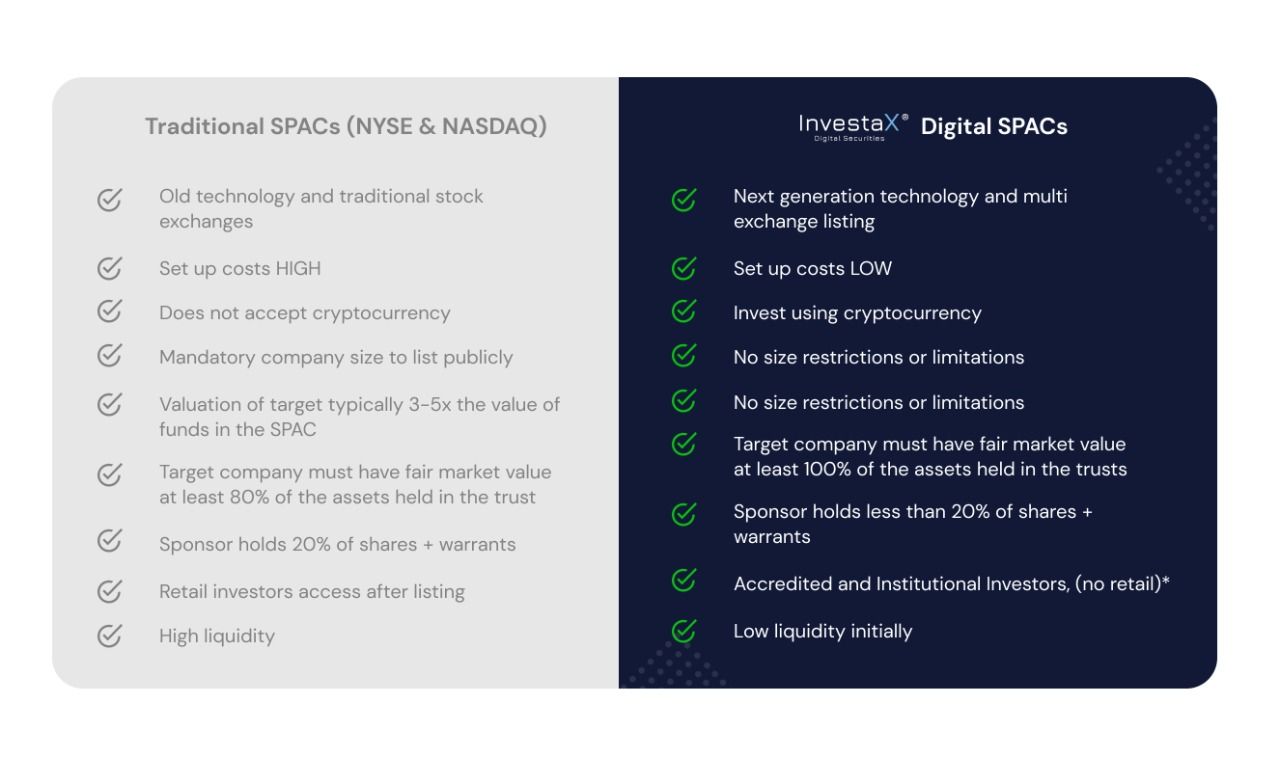 Currently Digital SPACs are not for retail investors, but forward-thinking regulators like the Monetary Authority of Singapore, issued a public consultation paper nearly 3 years ago seeking feedback on adding additional tiers to the Recognised Marketer Operator license for secondary trading, including a tier which allows limited access to retail investors.  Digital securities bring public market characteristics (tradability, transparency, price discovery and liquidity) to private market assets previously for AI/II investors only, so why shouldn't retail be able to access if they are protected properly, you can read more on this paper here.
InvestaX CEO, Julian Kwan, said "InvestaX and partners, offer Digital SPACs targeting cryptocurrency infrastructure, blockchain and DLT start-ups, games and e-sports, space, robotics, AI, and other future looking industries that are reshaping the 21st century".
Soul Capital Founder Billy So has built a successful tech portfolio of startups, many in the cryptocurrency industry, and is lead sponsor of the world's 1st Digital SPAC and Atlas One is our North America distribution partner.
What investment structures can be used as a Digital SPAC?
The SPAC just determines the investment structure and investment thematic (i.e fintech or e-sports), which is actually very similar to a venture capital or private equity fund except they typically invest into many companies not just one. First raise funds, then select target acquisition companies. As such, a SPAC could be any investment structure that is legally allowed in any jurisdiction including an LLC, Cayman fund, PTE co., Singapore Variable Capital Company (SVCC) and many more.
InvestaX will be open sourcing the smart contract code for Digital SPACs, to bring greater velocity and global distribution potential as well as interoperability with digital platforms around the world. Digital SPACs will be distributed globally, not just domestically, opening up new markets and opportunities for sponsors and investors.
How are the investment funds dealt with?
A unique and added advantage of Digital SPACs is that sponsors can accept BTC/ETH and any other digital currencies if they choose to do so, as well as fiat from investors. These "funds" are handled by licensed trustees and custodians. The funds can only be used for acquiring a company (de-SPAC transaction) or redeeming shares for investors that decide not to proceed. This is actually a good way to drive digital security adoption from an investor's perspective, as it allows investors to test drive investing and owning a digital security with the option to redeem.
Investment units and classes of shares
The success of any Digital SPAC will largely be driven by the investment terms being offered by the SPAC sponsors/managers and the quality of their investment track record. Digital SPACs provide a wide flexibility on how the units and classes of shares can be structured and will be determined by the sponsors/managers. We are aware that some market players believe the traditional SPAC structure and compensation metrics could be changed and improved for investors, a position that we fully support (see above diagram).
Set-up costs
SPAC sponsors are responsible for all set-up costs and that is the capital that is "at risk" if the SPAC either does not successfully raise capital OR all investors decide to redeem shares and the de-SPAC event does not eventuate. Importantly, set-up costs for Digital SPACs will be significantly cheaper (up to 90% lower) than traditional SPACs making them attractive for sponsors who might not be as well-known celebrity sponsors and/or successful as Chamath or Ackman and therefore cannot raise 100's of millions of dollars overnight, but might actually be much better positioned to understand industries that are digital and "new" like cryptocurrency or e-sports, a world that these sponsors grew up in.
Target companies and valuations
The average size of traditional SPACs in 2020 was approx $350M USD. To begin, Digital SPACs will target raising between $10-50M USD and there are no strict rules around valuations in relation to the size of the Digital SPAC, investors will vote accordingly for the success or failure of an acquisition.
Disclosures
Digital SPACs will need to follow similar reporting and disclosure procedures as traditional SPACs. Standard materials including audited financial statements of the target company, ultimate beneficial owners, etc. must all be provided to all investors.
We believe 3rd party specialists will enhance transparency and accountability and will make that a mandatory component of any SPAC transaction on the InvestaX platform.
Digital SPAC vs traditional SPAC
New technologies continue to transform capital markets, and we have seen this time and time again. As just one example, the ETF market grew from one fund in 1993 to 102 funds by 2002. By the end of 2009 nearly 1,000 funds were already created. According to ETFGI, there are now 5,000 ETFs trading globally valued in the Trillions of dollars.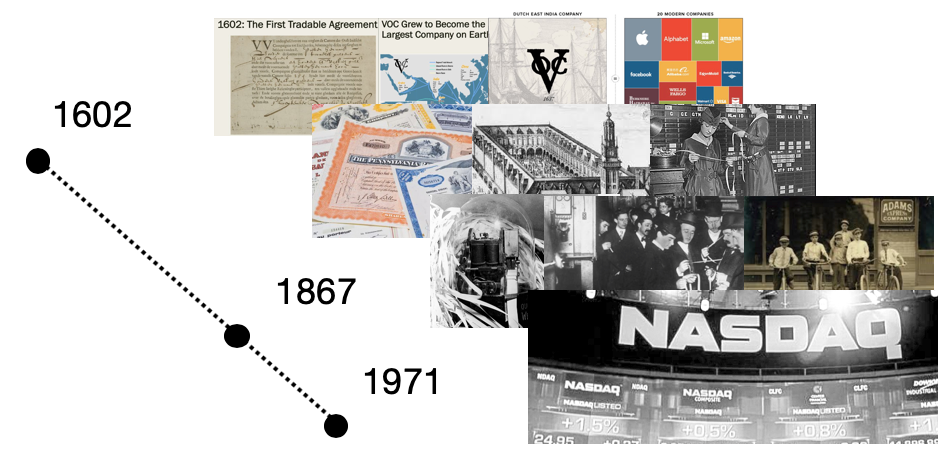 Digital SPACs are a natural evolution of the traditional SPAC market, bringing innovation, more flexibility, lower costs and more opportunity to companies that are not big enough to list on national stock exchanges or simply would prefer not too.
This will also bring investors access to cutting edge technology companies at earlier stages of their development, in a trusted, transparent format, providing investors digital shares they can use and de-risking the nature of private investment offerings.
InvestaX is a Singapore-headquartered, licensed investment platform for Digital Securities Offerings (DSOs) of global private markets deals, including venture, private equity and real estate. Register at www.investaX.io and to enquire about launching your Digital SPAC, please reach out to the team support@investaX.io thank you.