InvestaX is a leading licensed digital securities issuance, investment and divestment platform for real estate and private equity.
The I.M.F. predicts the worst economic downturn since the Great Depression.
"The USA real estate market is on the verge of collapsing in April", says billionaire real estate investor Tom Barrack of Colony Capital. This is one of the world's most important asset classes, so this is a HUGE statement. Watch this 7 min Bloomberg video.
USA real estate has been on a strong bull run for almost 10 years in most asset classes. Leading real estate investors are preparing for what many believe is a once in a generation opportunity to buy distressed USA assets at bargain prices.
As the world economy has come to a grinding halt, nearly all assets including bonds and commodity markets have seen increased volatility and the fastest 30% sell off in history.
"This was the fastest 30% sell-off ever, exceeding the pace of declines during the Great Depression" – CNBC
The US is now also simultaneously experiencing:
One of the greatest pandemics to since the Spanish flu 102 years ago
One of the greatest economic contractions since since the great depression ended over 80 years ago
The greatest oil price decline in OPEC history/ever
The greatest central bank intervention of all time
Private equity real estate is now starting to feel the effects of the Corona virus crisis. In just one market in the US and one asset class alone, we are seeing this - "40% of tenants in NYC may not pay rent in April"- leading to a domino effect on landlords and the entire real estate industry "supply chain". More Americans are missing their mortgage payments and are expected to seek forbearance from mortgage firms.  
"40% of N.Y. Tenants May Not Pay Rent This Month. What Happens Then?" – New York Times
These numbers are truly extraordinary and we believe they are only going to get much much worse in Q2, as the "lockdowns" around the country only started in March and many companies have not even reported Q1 earnings as yet. The gravity of the crisis is now starting to sink in and the fall out is still coming.
Strained and limited healthcare infrastructure is leaving compromised patients with fewer treatment options and frontline healthcare workers ill prepared to protect themselves and the public from the rapid spread of the disease.
Rapidly declining consumer consumption, economic production, capital spending and an ever-changed consumer psyche that has the potential to alter the way we interact with everyone and everything and this will dramatically impact real estate values. We should now question everything we believed before about living and working protocols, because over half the world's population is now on lockdown, over 4,000,000 people have been ordered to work from home.
The other stark reality the world now faces is that "closing down businesses" is much faster to do than starting them up back up, so unfortunately we won't see many of these companies (who are the tenants of all the real estate) come back for a while or at all.
The "Domino Effect"
Due to the economic slowdown, a vast amount of American people have already lost their jobs. Others are working in a reduced working scheme or have to stay at home completely. It is clear that the crisis has a direct negative impact on the disposable income of millions of Americans. In the first week after the lockdown, unemployment claims surged up to 6.6 million, in the past 3 weeks alone over 17 million people have applied for unemployment benefits, and this does not include those that haven't applied or were rejected, so the number is likely several million more.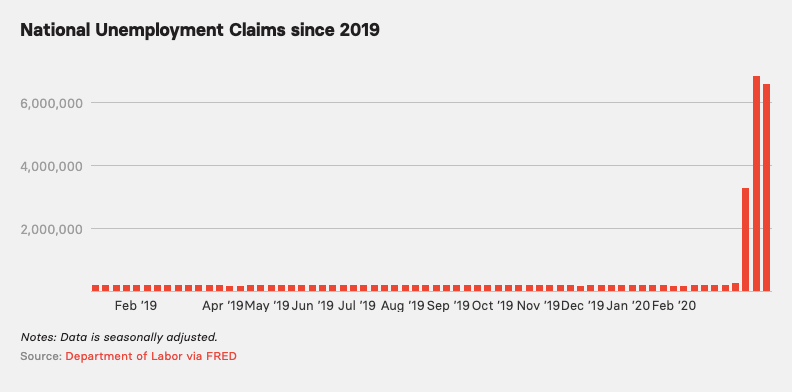 The fed estimates job losses could total 47 million and the unemployment rate hitting 32%. This is nothing short of economic armageddon.
The pressure on disposable incomes has several negative implications, one of them is that people will struggle to service their debt and loan repayments. Hence, default rates will inevitably increase.
Simultaneously, it is natural that real estate assets lose some of their value in case of increasing default rates since their value is primarily derived from the underlying cash flows. Many "real estate related businesses" like hotels have seen their revenues plummet (some to zero) due to falling occupancy and now 80% of hotel rooms in the US are empty.
"About 80% of hotel rooms in the US are empty amid the coronavirus pandemic, new data says" – MSN
If asset prices fall, creditors have to ask for extra capital to cover their additional risk. Real estate investment trusts are already in need of margin calls (meaning the demand for extra capital that is needed when asset prices fall). However, if their borrowers are not able to provide them with extra capital due to the current economic situation this might create a domino effect also representing a systemic risk for banking institutions.
The Washington Post has recently published an article where Invesco Mortgage Capital Inc., a real estate investment trust, reported not being able to make its margin calls. This is a fear that billionaire and real estate investor Tom Barrack shares.
"Loan repayment demands are likely to escalate on a systemic level, triggering a domino effect of borrower defaults that will swiftly and severely impact the broad range of stakeholders in the entire real estate market, including property and home owners, landlords, developers, hotel operators and their respective tenants and employees." – Tom Barrack
The FED reacted to this and many other economic threats with its 2 Trillion USD stimulus package (this looks like a strong Buy signal on BTC).
This should also address the risks in the commercial real estate sector, as the US government is now on a printing/spending spree and paying loans to universal low-income citizens, corporations, and implementing new regulations that allow for and prohibit evictions. It remains to be seen if these measures suffice to calm the US commercial real estate market or simply kick the can down the road leading to a bigger implosion later. A lot will also be dependent on how long the COVID-19 outbreak will endure.
So where are the opportunities?
We are experiencing something we have never seen before, so we cannot predict with certainty how it will exactly turn out, but we do know that the early economic indicators looks likely to create a market downturn bigger than any other before.
We are going to see incredible opportunities across residential, commercial, retail and hospitality, whilst data centres, warehouse and industrial will likely be relatively unscathed or have already increased in value.
As businesses across the country implode major stress forms in both the retail and commercial rents and mortgage sectors.
As large numbers of workers become unemployed, major stress forms on the residential rental and mortgage industries.
Development and construction is going to be seriously disrupted or forced to stop completely.
And all of the above leads to businesses and individuals rethinking their entire relationship with real estate.
The unfortunate truth is we are going to see a war zone across the spectrum between tenant/landlord, brokers and clients, financiers and borrowers, contractors and sub-contractors, developers and investors, there is no working relationship that will not be affected.
It is not all bad news, as there will be significant upside and advantage for investors willing to take a contrarian investment approach now. Capital that can solve these immediate and growing problems listed above, can secure attractive levels of interest for debt placements and enter equity investments at bargain prices.
And more than ever before, investing in real estate MUST NOW BE DIGITAL and online. Right now, you are not permitted to even fly overseas to the see the real estate in person, and this is true even for domestic residential sales where estate agents are doing auctions online as investors are not even allowed to view properties in person. Investors must find the right partners and structures that can best capture this opportunity as the window is rapidly opening, but will close just as quickly.
There is something really really big brewing here and today we are feeling a bit like Jared Vennett in the big short, this is worth watching for a few mins to lighten the mode (shout out to MW on this)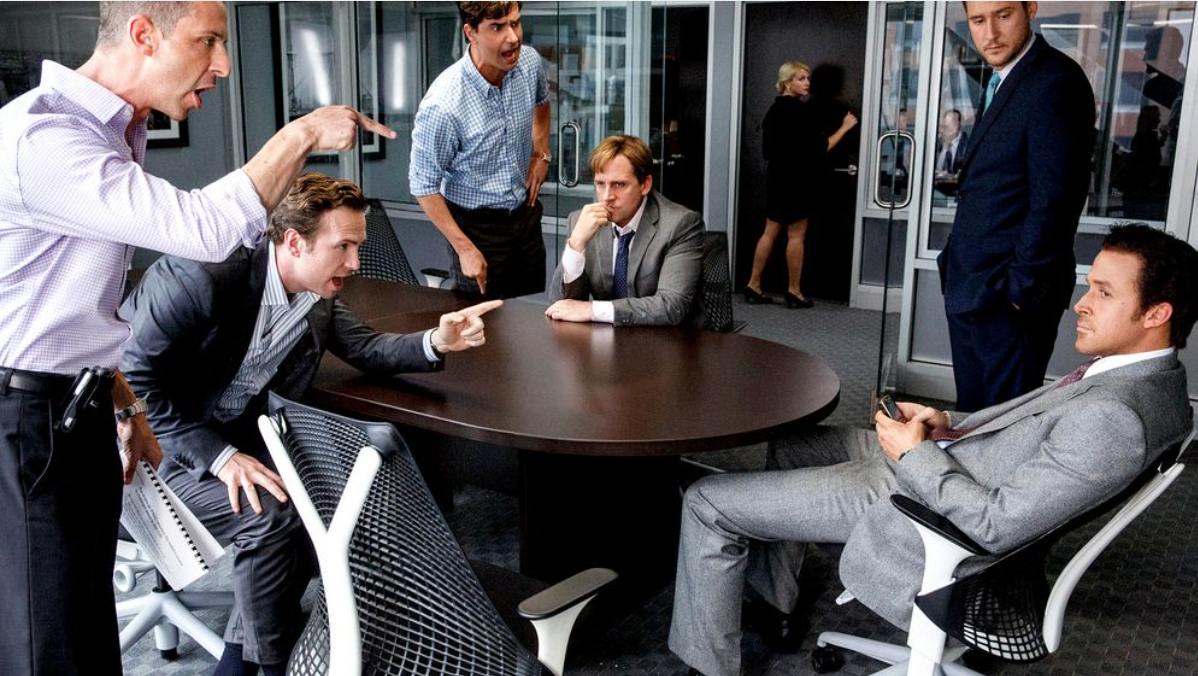 So despite this dire outlook, there are investors highlighting the opportunities of the abrupt economic slowdown. According to Daniel Lebensohn, investors with dry powder on the sidelines should watch out for potential high-return real estate prospects during the Corona crisis.
"There are people that do have dry powder, like us, and that will recognize this as one of the greatest buying opportunities of the century." Daniel Lebensohn, co-founder of BH3
As investors expect the default rates to accelerate over the next few weeks and months. This will raise the supply of properties as desperate landlords and lenders are in need of cash and forced to sell their properties.
Blackstone Group Inc., Brookfield Asset Management and other reputable investment firms are in a great position as they are sitting on billions and billions of cash raised from institutional investors. The issue for these groups is the minimum ticket of any portfolio investment needs to be really big. They also don't want to look at a deal that is sub $50-100M as it is not worth their time. They also only typically accept institutional investors with large investment minimums. But how does that help non-institutional investors that do not have access to those funds? The answer is simple, it doesn't.
InvestaX & partners understand the challenges and opportunity at hand and has been speaking with our people on the ground in the US seeking to understand the macro/micro environments and started assessing distressed opportunities across the capital stack, and across asset classes. We believe a short term special situation distressed fund is the right vehicle for investors in this environment, to capture the strongest risk adjusted returns, and allow our partners on the ground in the US to move quickly into the right opportunities including both distressed debt and distressed equity investments. InvestaX 's digital securities also gives investors enhanced optionality and liquidity, offering a way to trade their holdings before the expiration of the fund term.
"Investors with dry powder will have a short-term window rarely seen, to earn a premium to provide credit and equity to the market as conventional sources capital are either experiencing distress or are sidelined due to the uncertainty of the economic outlook. In addition, investors will be able to acquire assets at deep discounts due to the distress caused by effects of the Covid-19 pandemic on real estate owners, developers and tenants " Thomas Zaccagnino, managing partner Muirfield Investment Partners
"We were able to buy real estate at 50 cents on the dollar in the last downturn in 2008-2010, we expect the opportunities to be even better on this cycle down" Julian Kwan CEO InvestaX
InvestaX – Digital Securities
InvestaX is a Singapore licensed (No.CMS 100635-1) digital securities issuance and trading platform specializing in real estate private equity.
The lack of digital innovation in the private securities market leads to friction in the investment process for both issuers and investors. Derived from the current issues InvestaX has envisioned a digital future of the financing and investment industry targeting a much broader issuer and investor base.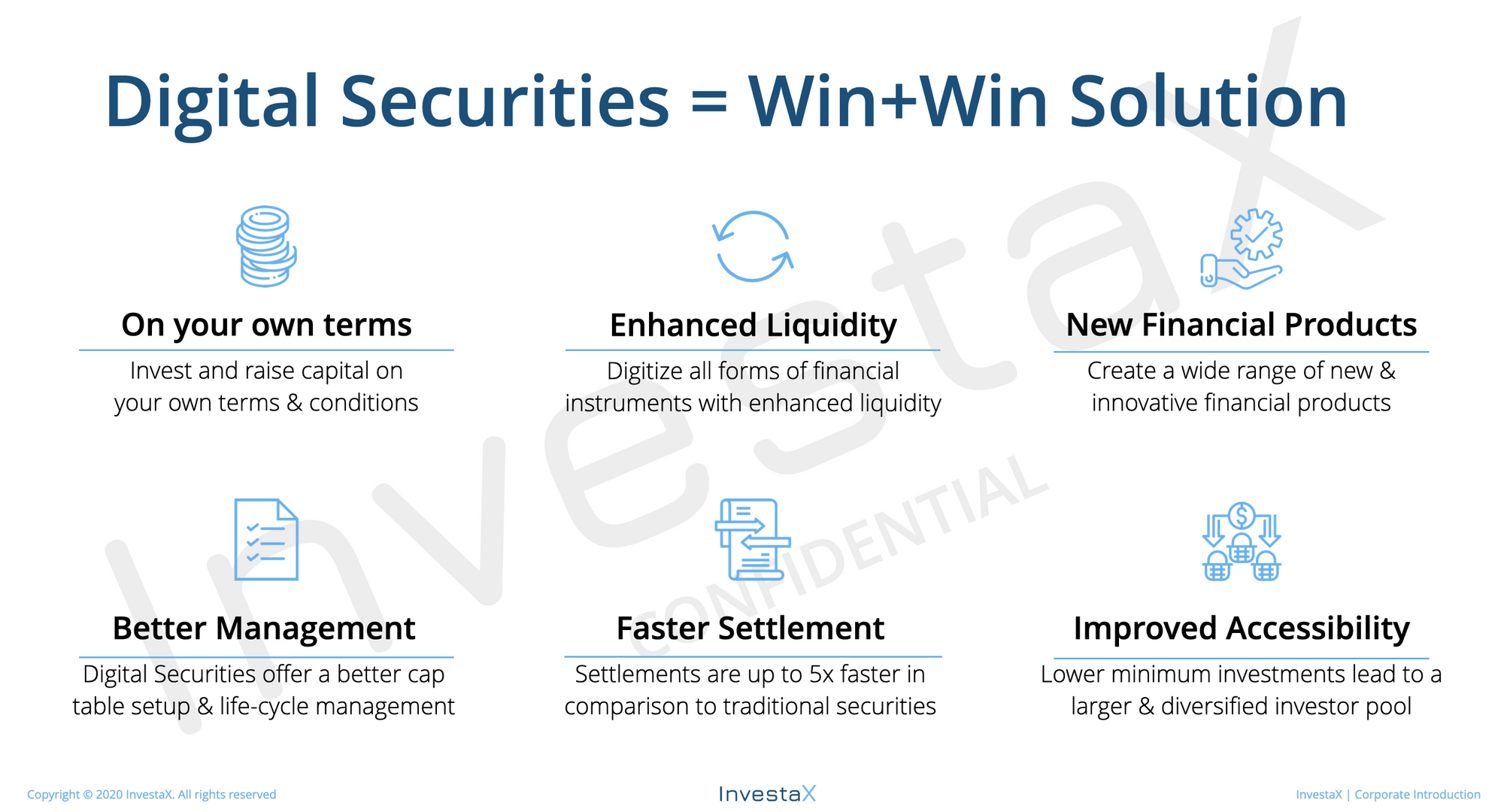 For more information on InvestaX or USA distressed real estate opportunities please email invest@investaX.io