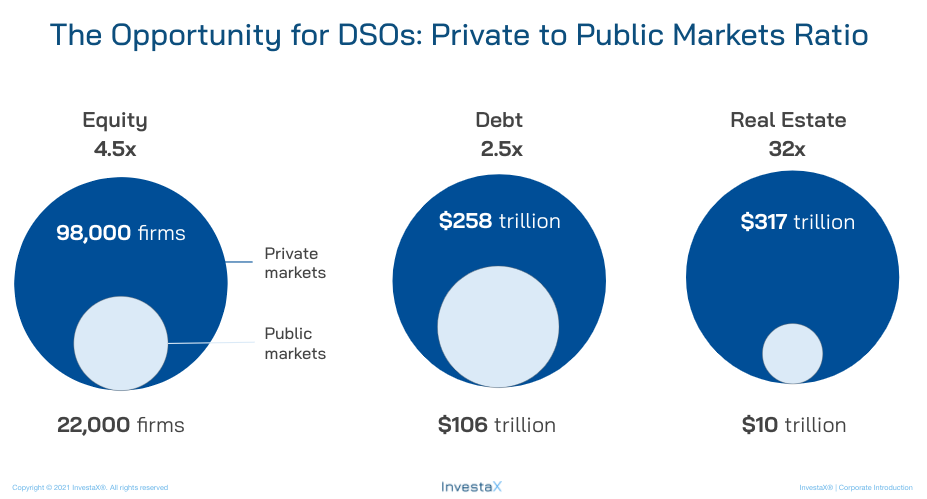 (Blog) Digital Securities Q4 2020 Update
InvestaX is a Singapore-headquartered regulated investment and trading platform for Digital Securities Offerings (DSOs) of global private markets deals, including private equity and real estate.
At DBS group's recent launch of a digital asset exchange platform, which made it the first institutional bank globally to do so, the group's chief executive Piyush Gupta remarked: "We are on the cusp of massive tokenisation."
Our team at InvestaX could not agree more.
The COVID-19 pandemic has accelerated the rate of adoption of "digital strategies" across all major financial institutions and their different business verticals. In the Digital Securities industry, there is a material surge in interest as well as activity from such institutions. Financial groups, especially asset managers and wealth managers, have begun to launch blockchain-based tokenisation initiatives that can improve their existing paper-based back office and middle-office processes, and provide liquidity to investors of traditionally illiquid investment strategies. Regulation, too, is keeping pace with these innovations. For example, in December, the German government legalized securities managed via blockchain technology, explaining: "Electronic securities reduce costs and administrative work. The bill brings an important digital innovation to the German capital market."
As you know, at InvestaX, we are at the center of these groundbreaking changes. Increasingly, we are witnessing an "institutionalisation" of the Digital Securities industry, and institutions are openly embracing the "Go Digital or Die" mantra.  Licensed entities are beginning to provide token issuance, secondary trading, and custody services to savvy institutional groups that understand the potential of the blockchain technology for capital markets.
In this Q4-2020 report, we want to bring to you the latest groundbreaking developments from around the world. These stories will underscore the importance of getting involved in blockchain-based initiatives now so that your business can adapt to the rapid changes in the industry.
Key Updates from Q4 2020
Growth of quality institutional issuances
Rapid development of institutional infrastructure
Surge in Central Bank Digital Currency (CBDC) and stablecoin projects
Successful completion of integration projects

So, what are Digital Security Offerings?
Our business focuses on digital securities, which is one of the three types of digital assets, as shown below.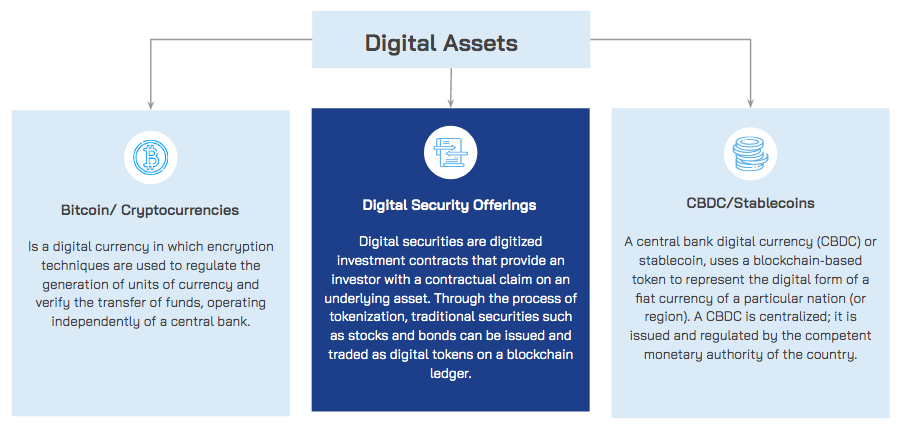 Key Trends in 2021
Larger deal sizes from fund managers and asset owners: Digital initiatives across industries have accelerated due to the COVID-19 pandemic, driving demand for tokenization of assets and investment funds and enhanced liquidity in the private market secondaries market.
Interest from traditional financial institutions: Increasing participation from traditional institutions, across financial, tax accounting and legal services, to test concepts and understand how to make the service available for their clients.
Favorable regulatory landscape: promote participation and consolidation in the sector, gain greater legitimacy within global finance and promote adoption - regulators seeing the need to compete in a global digital interoperable environment
Attract a new class of investors: investors looking to diversify exposures, explore opportunities within financial markets and gain access to a wider range of innovative investment products through global exchanges with tokenized product offerings.
End-to-end institutional infrastructure operator. End-to-end solutions, such as InvestaX. Establishing a regulated and institutional-grade end-to-end issuance, trading, settlement and custody infrastructure will allow a company to push for efficiency across the full value chain and provide market participants with integrated one-stop solutions.
DLT-powered platforms are being introduced to administer private equity funds, including interactions between general and limited partners.
Leading global private equity groups and financial institutions have hired their first heads of digital in 2H2020 as pandemic went into full force and we see this continuing into 2021
Growth of Cryptocurrency value (trillion dollar asset), making it a real asset now alongside the increased issuance of stablecoins.
Estimated Market Size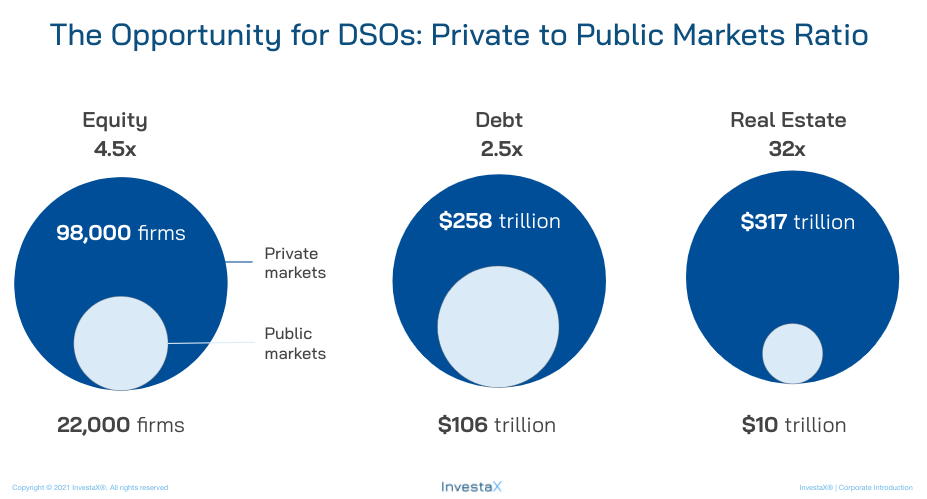 Important Industry Highlights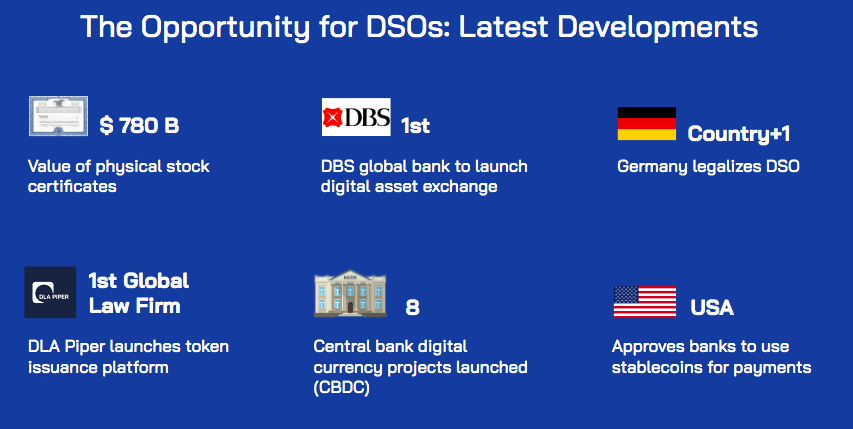 Leading Groups launching Digital Securities on InvestaX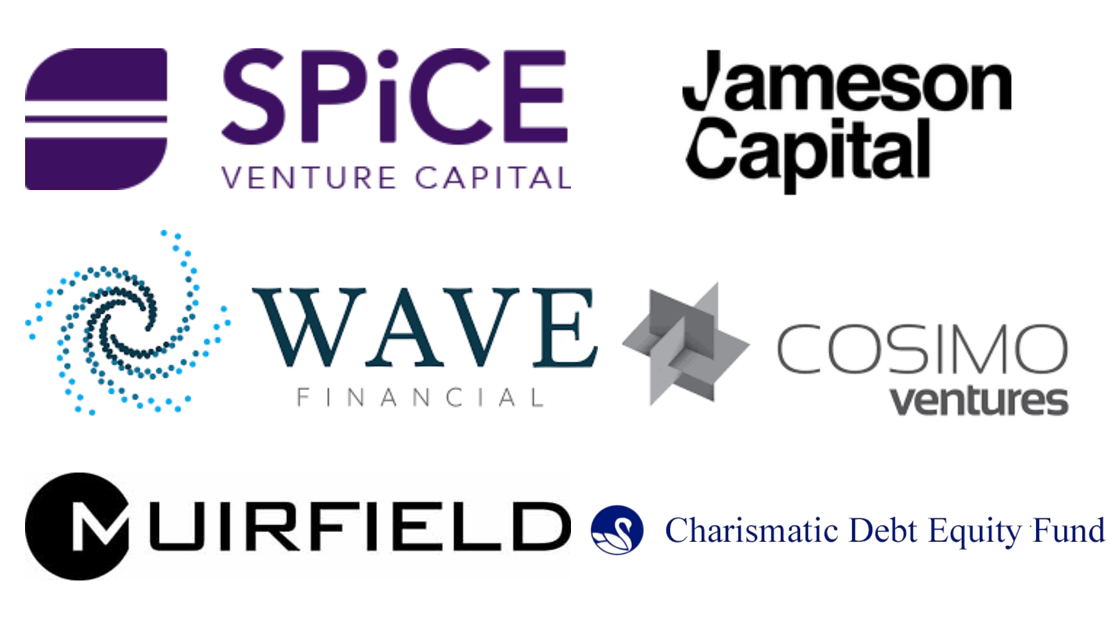 Issuers 2020 Updates
Charismatic Debt Equity Fund focuses on direct lending secured against listed shares. It targets to build a diversified equity portfolio across all industries in Asia lending to mid-market companies, with immediate financing or working capital needs. InvestaX has advised them on their offering as well as provided the technology and legal guidance to convert their paper shares into digital securities.
SPiCE VC is a venture capital fund that invests in market leaders driving forward tokenization and blockchain technology. InvestaX has made these offerings available to its investors and we are proud to be one of the SPiCE VC's company portfolios.
Wave Kentucky Whiskey 2020 Digital Fund is a tokenized whiskey fund which invests inventory, taking profit on the aging of whiskey over time as available. InvestaX has offered investors access to such an exotic listing with benefits of fractional ownership and liquidity.
Cosimo X is a tokenized fund investing in deep tech, software and blockchain technologies as a seed and series-A investor. InvestaX will be offering assisting with the fundraising and marketing to prospective investors.
Muirfield Special Situation Fund is focused on distressed US real estate and intends to invest across the entire capital structure, and will look into investment opportunities arising from primary and secondary markets. InvestaX has advised them on their offering, reach out to investors and to help formulate the investment profile for digital issuance.
Jameson Capital Special Situations Trust focused on structured hybrid debt and preferred equity investment opportunities arise from the COVID epidemic.  . InvestaX has advised them on their offering, reach out to investors and to help formulate the investment profile for digital issuance.

InvestaX is your one-stop-shop for all your Digital Securities requirements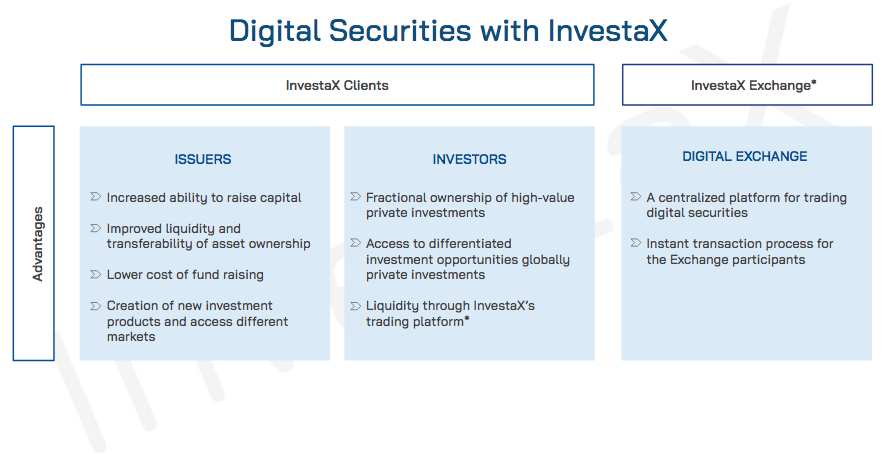 We are also hosting Asia's Second Digital Securities Forum this year, after a very successful response on the first forum, which was hosted in partnership with PWC. To learn more about the event and secure your seats today, write to us at: support@investax.io