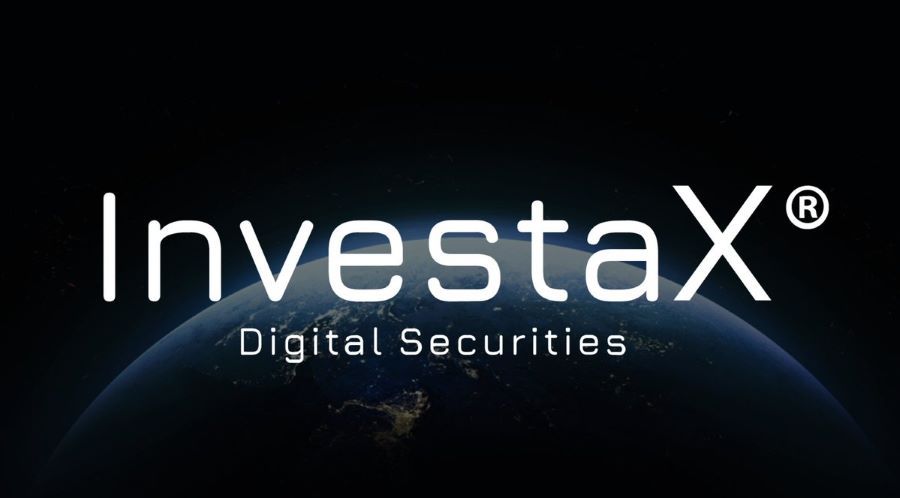 (Blog) Global Digital Securities Report Q1-2021 by InvestaX
InvestaX is a Singapore-headquartered regulated investment and trading platform developing the latest technology driven investment vehicles called Digital Securities Offerings (DSOs) using blockchain, for global private markets deals, including private equity and real estate
There is so much going on it is literally hard to keep up.
We breakdown the latest across the Digital Asset Universe for you, as these worlds are now colliding but this, is no accident.
The most impactful work we did in Q1 at InvestaX was launching the World's 1st Digital SPAC, you can read all about it here. Summarized below are the benefits of using tokenization to go digital and this is another example of making a traditional investment structure better.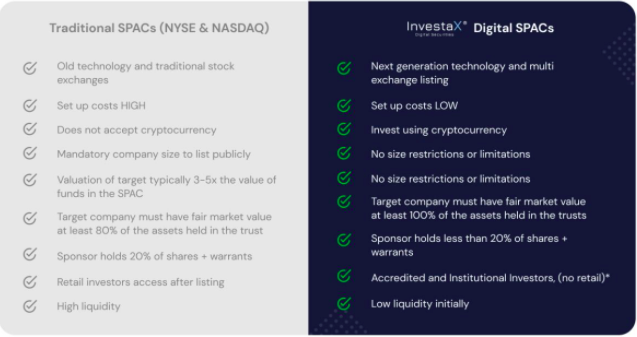 If you believe it is still too early to consider tokenization more closely, you should know that in the past quarter alone, we have launched tokenization projects with three global banks, one local, Singapore-based bank, a leading global fund administrator, one of the largest real-estate property developers in Southeast Asia, and two ESG-focused funds. Furthermore, we have partnered with industry leaders to tokenize not only the underlying assets but also fund structures and corporate debt and equity offerings. We now have several billion-dollar worth of assets under negotiation that involve launching digital securities, and we believe that the market is (finally) ready to reap the advantages of tokenization.
In this Q1-2021 report, we want to bring to you the latest groundbreaking developments from around the world. These stories will underscore the importance of getting involved in blockchain-based initiatives now so that your business can adapt to the rapid changes in the industry.
Before we begin to highlight the latest groundbreaking developments from around the world, we want to remind our readers of the differences between digital securities and other digital assets by redirecting you to our digital assets breakdown here.
There has also been a lot of noise about DeFi and NFTs, so we will share our thoughts on them in this report.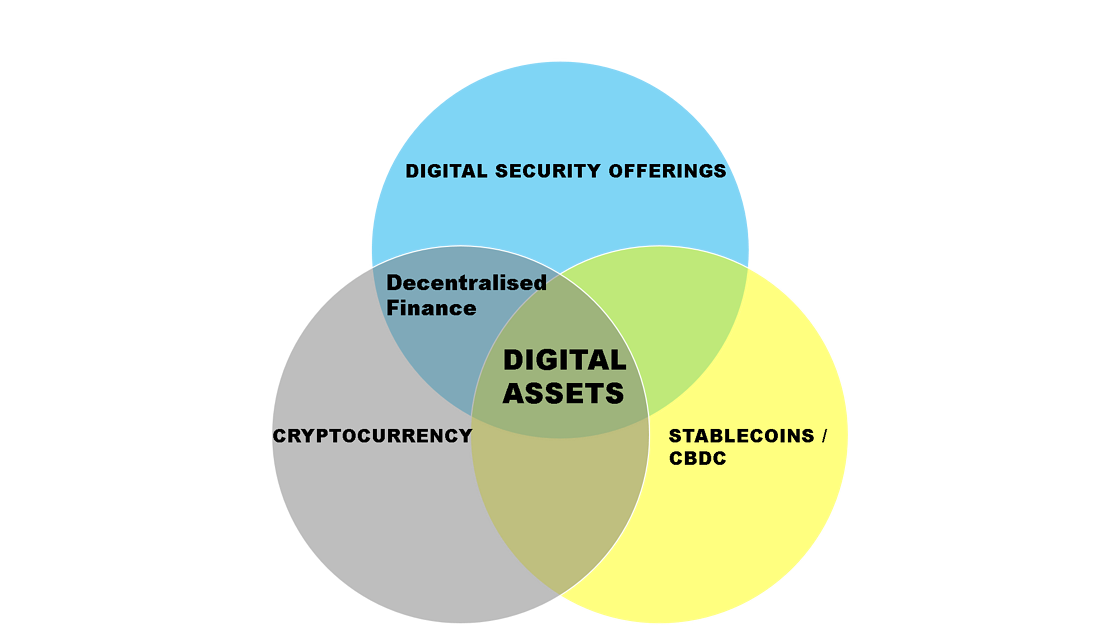 What is a NFT?
NFTs have exploded in Q1. NFTs are so new we haven't exactly worked out where to put them in our venn diagram above!
The NFT, a non-fungible token, which put simply is a unique one-of-a-kind token representing a digital asset, that could be art, digital real estate, music, images, and other similar assets. This is a good breakdown of NFT's here, do yourself a favour and spend a few minutes reading, it is changing industries and how humans exchange value, this is the key point. Look through the craziness of some of the pricing of these assets (although the same could be said for traditional art) and you can see a much better system that is being adopted by the next generation and new world order for asset creation and ownership.
Here is a great podcast from Laura at Unchained, "What exactly do you get when you buy an NFT?, 3 lawyers chime in"
You can also learn and get valuable take away's from Metakovan's perspective, the Singapore buyer of the $69M USD Beeple NFT and why he did it. The team at Christies, the famous auction house that ran the auction breaks down who was there and the changing demographics of the bidders, its fascinating and worth the time here "How NFT's will change the world"
What is DeFi?
Decentralised finance.
From our perspective Bitcoin is the most well known product in the "DeFi" space and it launched in 2008, so if you still haven't read the Bitcoin whitepaper, it is highly recommended. "DeFi" has exploded in the last 12 months, but some/many of the projects look and feel like ICO 2.0.
Let us not forget that ICO 1.0 launched many of the top cryptocurrency/tokens in the world. There was a lot of scams and negative press, but out of the ashes came some incredible innovations and the creation of new networks that have huge value today.
For the record, Wikipedia actually states that the first DeFi project was the Maker Dao worth reading the summary here.
On a positive note, today the projects are better and more sophisticated than in 2017, the tokenomics less egregious and more balanced, and hopefully there will be a lot less scams, however many of the same characteristics remain that investors should understand:
Huge returns are possible, as well as huge losses, in a very very short time
The same pump and dump mentality is across the industry and the usual suspects (VC's and OG's) are actually the worst offenders
Many of the DeFi whitepaper's are filed with complex math and physics verbiage and calculations that are either truly groundbreaking and might change the world OR are intentionally confusing to sound game changing to convince investors to part with their funds
It is not all doom and gloom and what is important to note though is:
There is now 10-100X more capital chasing these deals than in 2017, so expect this run up to be equal or crazier than the last
There is amazing innovation being created, DeFi is bringing traditional capital markets services like lending, borrowing etc to the crypto markets, meaning crypto is becoming more and more useful and that market is expanding daily
As DeFi grows there are lots of opportunities and risks, a good podcast you might want to check out "Why proposed FATF rules could be a shock for DeFi". So lastly on the subject of DeFi, here are some recent projects we think are super interesting and do have real potential to add value to the ecosystem:
Why is DeFi important for digital securities?
The relationship between traditional finance and decentralized finance grows closer every day. Over the last few years, blockchain has enabled a decentralized ecosystem with multiple subclasses of digital assets such as digital securities and utility tokens. These subclasses of digital assets have remained silo-ed in their own systems where, digital securities have predominantly been an interest for traditional financial institutions and utility tokens for the crypto DeFi world. However, we are now starting to see a convergence of such digital assets as more integration and interoperability is forming with real world assets such as digital securities.
We at InvestaX are  looking to revolutionize the financial world to fuse the elements of both new and traditional finance by providing new technology driven investment products, valuable liquidity solutions and greater transparency to our global investors. Check out the enormous number of high quality projects and the leading brands behind them from Q1.
Growth of quality institutional issuances
Rapid development of institutional infrastructure
Interesting new developments
Successful completion of integration projects
Emerging 2021 Trends
DeFi: New investment products will continue to come to market and bring  continued growth and evolution for digital assets.
Digital Securities: Traditional institutional groups across financial, tax accounting, and legal services are investing time and energy to develop this market with new projects beginning everyday. DeFi will increasingly cross over and become more interoperable with digital securities.
NFTs: Will continue to grow and evolve and reshape the relationship humans have with value and assets, from real world baseball trading cards and traditional fine art to digital real estate and digital art.
Favorable regulatory landscape: Regulators around the world are seeing the need to compete in an interoperable digital environment and encourage financial institutions to innovate within the boundaries of a monitored framework. Increasingly, DLT-based solutions have been able to administer private equity funds, including interactions between general and limited partners.
Tokenization of secondaries: As more of the old guard understand their investors want liquidity and not lock up's, more secondaries will hit the market and you can learn more about tokenization for private market secondaries here.
So how can InvestaX help you?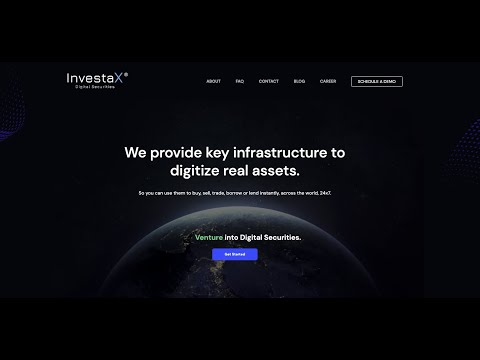 So, what are Digital Security Offerings (DSOs)?
Our business focuses on digital securities, which is one of the three types of digital assets, as shown below.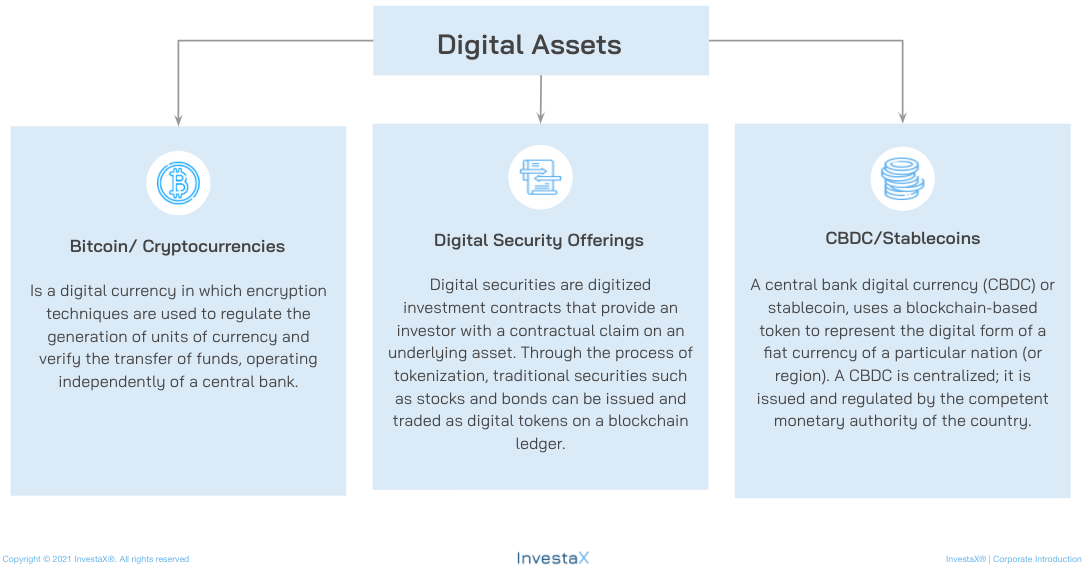 Latest Partnership - Research Terminal
InvestaX and Atlas One have joined forces to offer Atlas One's DSO research to our investors. This is the leading source of data on global DSO offerings and we are excited to grow this together with Atlas One as our partners. George Nast is Atlas One CEO/founder and is also one of InvestaX's best LPs, and believed in our vision many years ago, thanks for the ongoing support.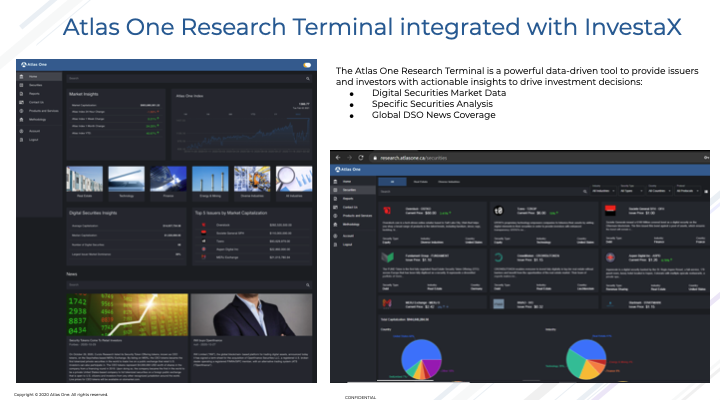 Leading DSO Partners on InvestaX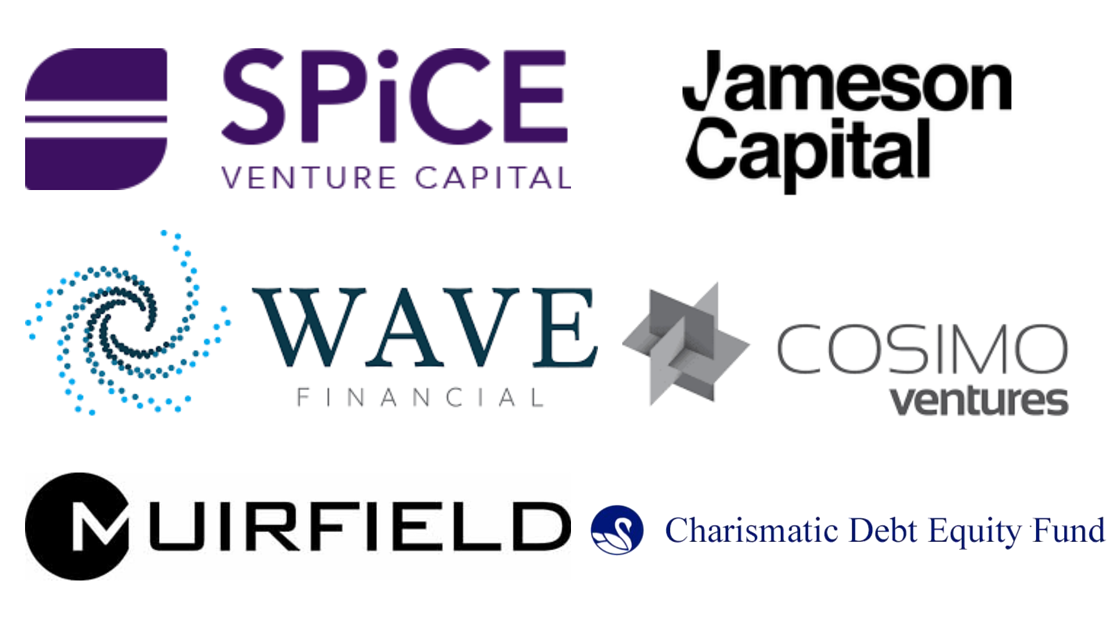 Our Partners' Investment Strategies
Cosimo X is a tokenized fund investing in deep tech, software and blockchain technologies as a seed and series-A investor. InvestaX will be offering assisting with the fundraising and marketing to prospective investors.
Charismatic Debt Equity Fund focuses on direct lending secured against listed shares. It targets to build a diversified equity portfolio across all industries in Asia lending to mid-market companies, with immediate financing or working capital needs. InvestaX has advised them on their offering as well as provided the technology and legal guidance to convert their paper shares into digital securities.
SPiCE VC is a tokenized venture capital fund that invests in market leaders driving forward tokenization and blockchain technology. InvestaX has made these offerings available to its investors and we are proud to be one of the SPiCE VC's company portfolios.
Wave Kentucky Whiskey 2020 Digital Fund is a tokenized whiskey fund which invests inventory, taking profit on the aging of whiskey over time as available. InvestaX has offered investors access to such an exotic listing with benefits of fractional ownership and liquidity.
Muirfield Special Situation Fund is focused on distressed US real estate and intends to invest across the entire capital structure, and will look into investment opportunities arising from primary and secondary markets. InvestaX has advised them on their offering, reach out to investors and to help formulate the investment profile for digital issuance.
Jameson Capital Special Situations Trust is focused on structured hybrid debt and preferred equity investment opportunities arise from the COVID epidemic.  . InvestaX has advised them on their offering, reach out to investors and to help formulate the investment profile for digital issuance.
InvestaX is your one-stop shop for DSO services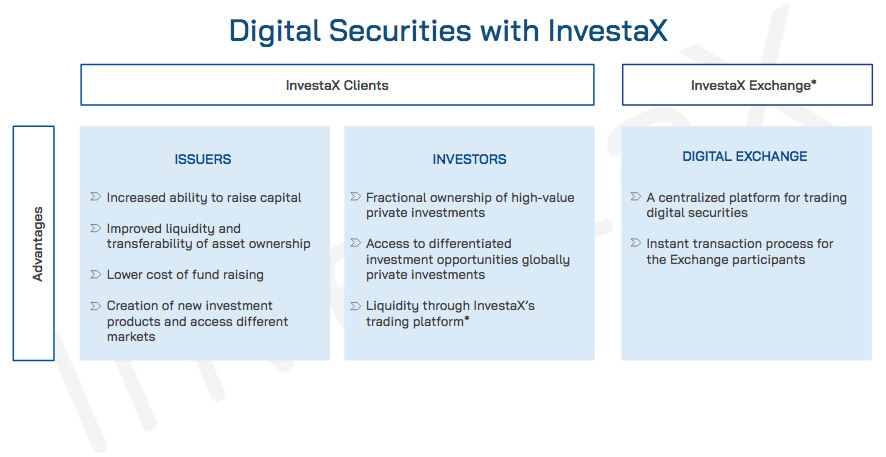 We are also hosting Asia's Second Digital Securities Forum this year, after a very successful response on the first forum, which was hosted in partnership with PwC. If you are interested in learning more about the event or in securing your seats, please write to us at: support@investax.io.