A recent report from PE-Insights shows that leading global private equity groups are pushing for distribution of private market offerings to a broader investor base that currently does not have access to these investments.
At an event of the Securities and Exchange Commission (SEC), representatives of major investment groups indicated in the names of Blackstone and Apollo Global Management that they are willing to go after the trillion dollar retail market that is currently sidelined and not able to access this asset class due to opaque and outdated rules.
A positive sign for digital securities
Regulations aside, one of the main reasons distribution of private equity offerings to "retail" investors (which often include accredited investors by meaning) has not had an impact yet, is due to the nature of paper-based investment structures and the time and cost it takes to manage the issuance and life-cycle of a "smaller investor".
Digital securities bring the promise of reduction of time and cost of the inefficiencies created through the current "paperwork" of any securities issuance. This results in no significant cost or time increase to be able to onboard a broader universe of investors with smaller investments. Having one large investor is great, until it isn't.
So dissecting these moves, we can see digital securities as a real application and tool to help facilitate what the leading PE issuers are looking to achieve. The growth of digital securities comes hand in hand with the improving quality of the underlying security and the more institutional grade offerings we begin to see, the greater the network effect for the growth of the industry.
The 2019 McKinsey's Private Markets Annual Review revealed that in 2018, $778 billion of new capital flowed into private markets. In the last 19 years, private equity net assets value grew by 7.5 times since 2000. That is more than twice as much growth as the public markets accounted in the same time period. Over the last 20 years, the average private equity ROI was 13.5%, Venture Capital could even offer investors an ROI of 30% per annum. To put that into perspective, the return prospects of public markets investments are in the lower two digits.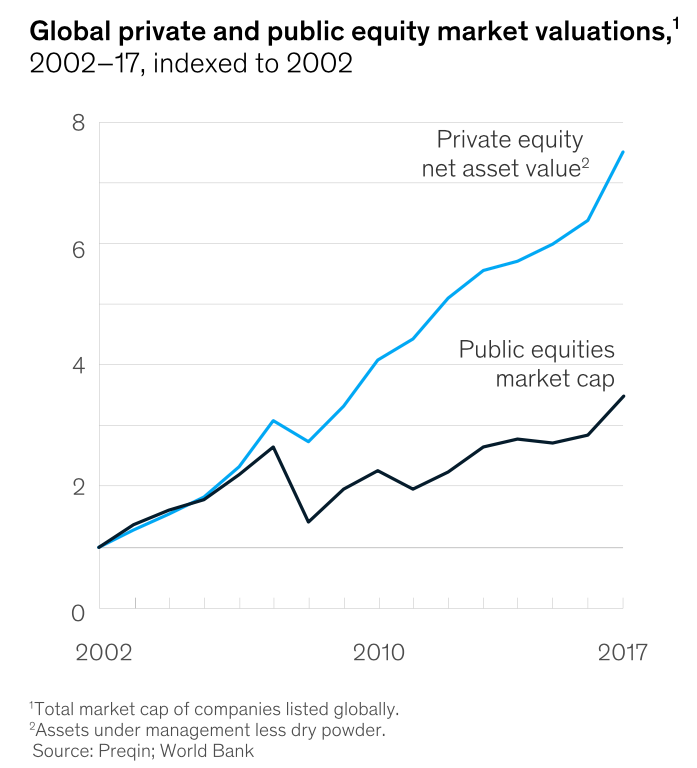 With these numbers, it is fair to claim that private markets outpaced the public markets.  However, while the public markets innovated and introduced "e-securities" in the  1990's, the private markets have not evolved at all.
Today's private markets still use antiquated process flow relying on paper-based investment structures, making investments costly and inflexible. As another report from McKinsey states, this fact combined with "particular, tightening regulation" led to a system only allowing the super-rich individuals, sovereign funds, and pension funds to invest in private debt and private equity deals. Many other different pools of investors would also like to access the same quality of investments due to their appealing investment characteristics.
"In the digital evolution of securities markets, the public markets took a few hundred years to get from paper securities to NASDAQ and e-securities, matching and mirroring the growth and volume of capital going into the space. Meanwhile, the private markets have not done anything. Basically, there has been no evolution how you invest in private equity deals for hundreds of years." – Julian Kwan, CEO & Co-Founder of InvestaX
The Digital Evolution

This highlights how important the current developments are. For the digital securities space, it now starts to become an important major step as we see more and more institutional PE groups working on their first digital securities offerings. We also believe a more inclusive investment and financial system would open the door for the growth of new technologies such as blockchain/DLT which will lead to a new universe of investment structures and products we have never seen before.  
As private market players are starting to target the masses, blockchain technology also gains more relevance due to its cost saving potential. For instance, private equity funds charge LPs (investors) with a 2% management fee + 20% carry. The 2/20 fee structure got accepted by the market  due to the strong performance of these funds within the last 20 years. The 2% management fee exists due to high overhead-costs, one of those areas is the excessive due diligence processes required in a paper-based investment environment. As shown above, these high investment costs might not have stopped the "wealthy" from investing but if the retail market is coming in, new and more cost-efficient solutions are  needed and possible.
Automated smart contracts and new technology driven investment vehicles with automated cap-table management services are certainly the most prominent examples of how blockchain technology can radically save costs and lead the way to more efficient fund structures. Moreover, tradability of private equity holdings via a distributed ledger or public blockchain will allow an immediate and cost-efficient transfer of ownership building up new marketplaces for enhanced liquidity.
Example: How Digital Securities redefine PE Real Estate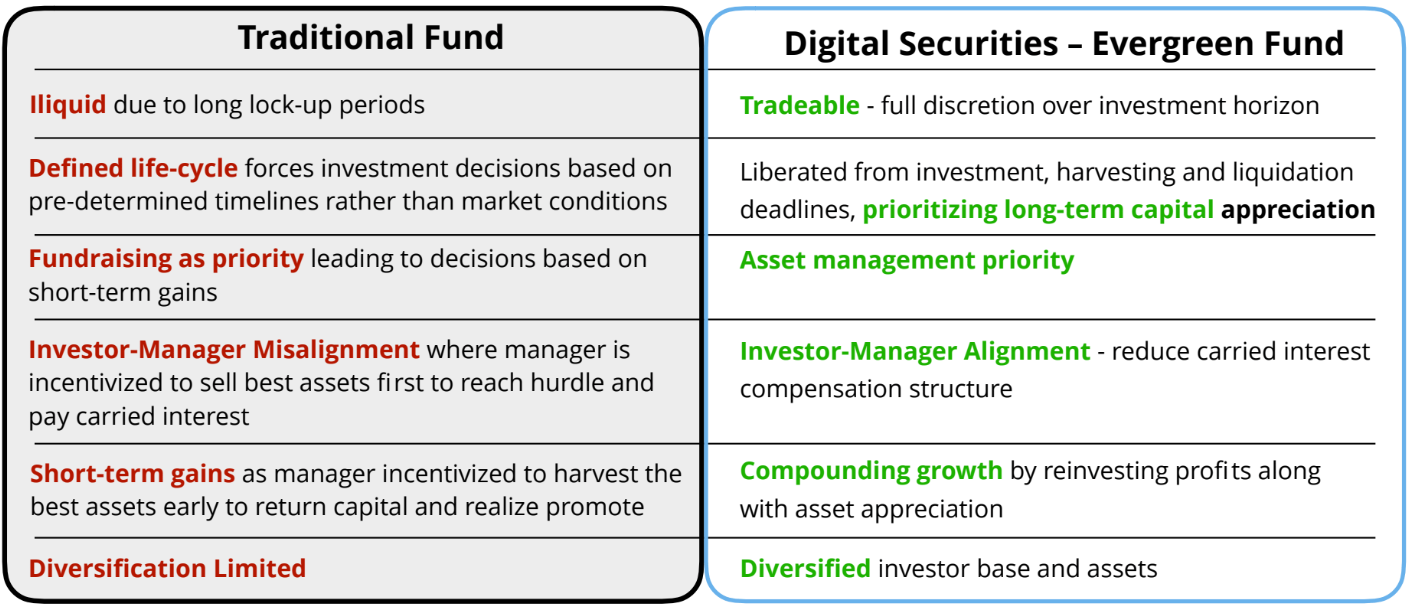 InvestaX is licensed by the Monetary Authority of Singapore to deal securities, and offers end-to-end solutions for digital securities issuance, trading and custody for private equity. We will continue to closely monitor further developments and initiatives aiming for a more inclusive financial system.