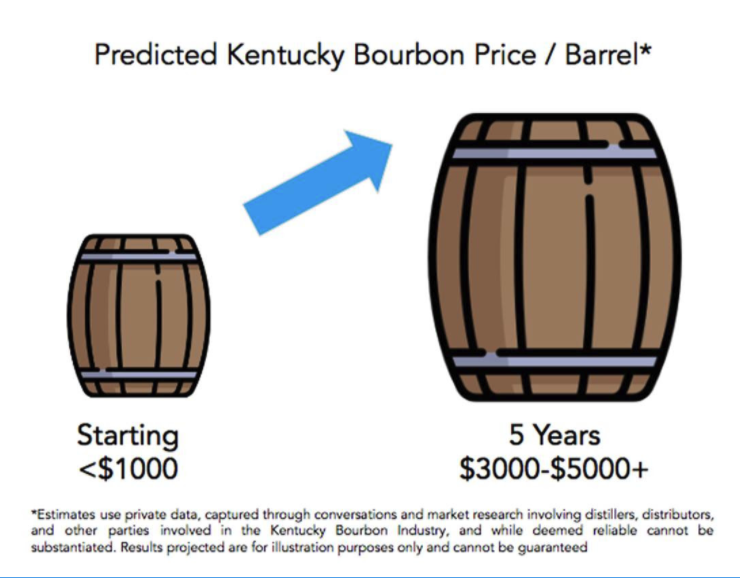 (Press Release) Launch: Partnership with Wave Financial

InvestaX is a Singapore-headquartered, MAS-licensed* investment and trading platform for Digital Securities Offerings (DSOs) of global private markets deals, including private equity and real estate.

Partnership with Wave Financial LLC
InvestaX is pleased to announce that the US-based digital asset manager Wave Financial LLC ("Wave") has extended its Wave Kentucky Whiskey 2020 Digital Fund for investors in Asia by partnering with us for its final close on 30 November 2020. Managed by Benjamin Tsai, a former Bank of America Merrill Lynch (ex Head of Commodities Asia Pacific) and AllianceBernstein investment professional, the fund's investment objective is to capture the returns associated with the increase in the value of American whiskey during its aging process.

Wave's Kentucky Whiskey Digital Investment Strategy
The investment thesis is based on the production and aging of whiskey, which has become a lucrative business according to Bloomberg, thanks to whiskey's status as a storable "liquid gold" that only appreciates in value owing to its rarity. For instance, a barrel of Kentucky Bourbon whiskey is estimated to be produced by a mid-sized distiller for under $700. Assuming a production cost of $700, a barrel of Kentucky Bourbon can be worth 3–4x that value after only three years of aging*. What is more, due to the high global demand for whiskey, especially Kentucky Bourbon, it is difficult to find wholesale Bourbon Whiskey that has aged four years or greater on the open market. Naturally, distillers are aware of the value of their aging whiskey, so they typically elect to age the whiskey themselves.



Strategy Execution
To capture this outsized potential of Kentucky Bourbon, Wave has partnered with Wilderness Trail Distillery in Kentucky to produce up to 25,000 barrels starting in 2020. (Wave recently secured its first 1,000 barrels of premium Kentucky Bourbon whiskey.) While already-aged whiskey may appeal to those collectors familiar with the industry, an investment in aged inventory requires making a bet on expensive whiskey getting even more expensive. On the other hand, Wave has found that investment into fresh-fill whiskey, which this strategy is focused on, mirrors typical commodities investments, and focuses on the value appreciation in the first few years of the whiskey lifecycle. In fact, there is a robust secondary market for younger barrels of aged whiskey, whereas already-aged bottles are harder to liquidate and require a more extensive sales and marketing process. By owning the fresh-fill barrels, Wave will be well positioned to take advantage of the expected increase in the Kentucky Bourbon's prices over the investment period.

Investment Summary
Access: Investors gain access to a historically high performing asset class without administrative or operational hassle.
Security: Barrels are insured, monitored regularly, and kept at distillers' warehouses for ageing.
Liquidity: Tokenization allows for 24/7 trading, with tokens tradeable on select digital security exchanges#.
Asset Backed: Wave owns the barrels, and will liquidate them in advantageous times to generate profits and cash flows.

* Capital Markets Services license no. CMS100635-01; Recognized Market Operator license pending approval from MAS.
# Manager will employ their best efforts to set up; available 2 years after launch of investment strategy with no guarantee of a robust market.
---
About InvestaX
InvestaX is a MAS licensed digital securities platform* company based in Singapore offering end-to-end solutions for the issuance, trading and custody of digital securities for real estate,  private equity and other alternative investments. Founded in 2015, InvestaX is an early pioneer in the use of blockchain technologies to develop leading technology-driven investment vehicles called digital securities offerings, removing friction and delivering secondary market trading. To date, the company has issued more than 28 private equity offerings that are jointly valued over US$1 billion and had 13 successful exits. InvestaX has also successfully created a digital ESOP, coined the DESOP.

W: https://www.investax.io/
L: https://www.linkedin.com/company/investax/

*Capital Markets Services license no. CMS100635-01; Recognized Market Operator license pending approval from MAS.

---

About Wave Financial
Wave Financial LLC (Wave) is a Los Angeles and London based investment management company that provides institutional digital asset fund products. Led by a team of highly experienced financial services professionals, Wave provides investable funds via their diverse investment strategies applied to digital assets and tokenized real assets. Wave also offers managed accounts for HNWIs and family offices seeking tailored digital asset exposure, bespoke treasury management services, and early-stage venture capital and strategic consultation to the digital asset ecosystem.

Wave is regulated as a California Registered Investment Advisor (CRD#: 305726).

W: https://www.wavegp.com/
T: https://twitter.com/wave_financial
L: https://www.linkedin.com/company/wave-financial/

---

About Wilderness Trail Distillery in KentuckyThe Wilderness Trail Distillery in Kentucky was formed in 2006 by fermentation experts with 20 years of experience, as a consultancy to the best global distilleries. In 2020, Wilderness Trail was selected by the Kentucky Distillers' Association to be featured as a landmark on the Kentucky Bourbon Trail®.

---
Other Live Opportunities with InvestaX
---
An innovative private credit fund that provides secured loans to  entrepreneurs who have listed companies in Singapore, Hong Kong, Indonesia and Thailand stock exchanges
---
Special Situations fund that opportunistically lends to a portfolio of direct and indirect Australian real estate that is experiencing distress associated with the COVID-19 crisis
---
Copyright © 2020 IC SG Pte. Ltd., All rights reserved.
Important Notice:  InvestaX.io is operated by IC SG Pte. Ltd. ("InvestaX" or "IC SG"), a Singapore private limited company (Company Registration No. 201300459N).  IC SG is licensed and regulated by the Monetary Authority of Singapore ("MAS") and holds a Capital Markets Services License (CMS-100635-1).

This article and the contents herein are provided for information purposes only and do not constitute financial or investment advice or an offer to sell, or the solicitation of any offer to buy, any security or capital markets product in Singapore.