Despite the Covid-19 pandemic, 2020 so far has been an exceptionally interesting and productive year for the digital securities industry. As blockchain technology and the talent powering it continues to exhibit exceptional growth, more players such as banks and major financial institutions are entering the market, providing necessary infrastructure services and more institutional-quality securities offerings for investors. It is important for our investor community to be ahead of the curve, so we have compiled the latest developments and news for the digital securities industry in Q2-2020.

For digital securities offerings (DSO) and the industry, it is important to remember that the entire space is only three years old, but let us start this update with an image that paints the right picture for our community. In this short period of time, most of the world's leading institutions have already implemented their first products, services or offerings using blockchain and distributed ledger technology (DLT). Smart governments (such as Singapore) have been testing this new technology since as far back as 2016.
In fact, in Q2 2020, the Singapore government's project UBIN phase 5 completed the "Central Bank Digital Money using Distributed Ledger Technology", a digitized version of the Singapore dollar to streamline delivery vs. payment (DvP) with wide ranging benefits across many industries.
The technologies used in the cryptocurrency market (blockchain and Distributed Ledger Technology (DLT) ), made their first move into the capital markets with the launch of "Security Tokens" in 2017. Here is a brief history of blockchain meeting capital markets.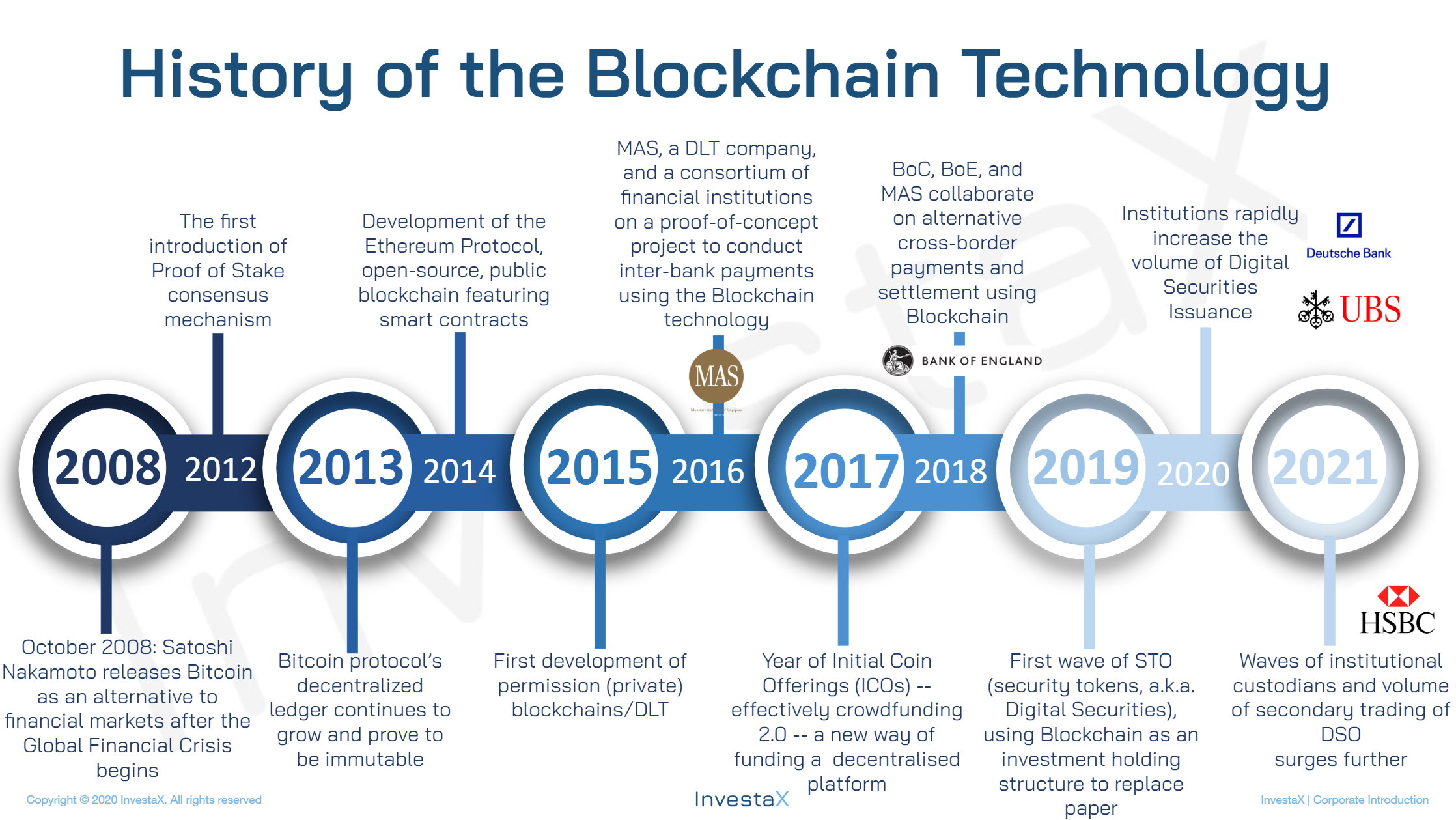 One of the challenges within the industry has been getting consensus on terminology. Currently, the market is using security tokens and digital securities to explain the same type of product.
InvestaX prefers the term digital securities over security tokens because traditional capital markets players often get confused when using the word "token" and mistakenly assume that security tokens are related to cryptocurrencies and not securities. The most important connection between cryptocurrencies and digital securities is the underlying technology layer. They both use blockchain and DLT, but they represent entirely different under lying assets. There is a distinction between the two, which we will break down below. Over the coming years, we will see further clarity around terminology and will end up with definitions along the following lines:

Digital Securities Offerings (DSO): Encompass both tokenized securities (as defined below), and security token offerings (as defined below).  Tokens may be or may directly represent shares, bonds, funds interests, etc., or may be certificates representing those securities.  

Security Tokens Offerings (STO): Blockchain-native securities where the representation of ownership of interest is issued directly onto the blockchain, i.e. there is no paper interest referenced. The digital representation of ownership where the investment structure exists purely in a digital form and instead of a paper contract, investors hold "tokens" or smart contracts.

Tokenized Securities: Digital representations of a traditional security in token form, say debt or equity, in a company or fund, which reference a paper interest, where the security was not digitally native but has been subsequently converted into a digital security subsequently.  

Digital Assets = An umbrella term that encompasses all types of digital representations of ownership including cryptocurrency, Initial Coin Offerings ICO, Security Token Offerings STO and Digital Security Offerings DSO.

Here is a recent paper, by our friends  Lambert, Thomas and Liebau, Daniel and Roosenboom, Peter, Security Token Offerings, that dives deeper into all of the concepts above and is well researched. Pages 26 & 27 provide a good brief history if you are short on time. The paper has an informative chart (shown below) that breaks down some definitions above.
For more clarity on terminology, another useful read  here "Global Digital Finance Code of Conduct Part VII Principles for Security Token Offerings & Secondary Market Trading Platforms"

To understand the DSO industry and its development, it is better for industry participants to measure the growth and size of developments in quarterly increments, not yearly. Why? Because we are moving so quickly, and there is a rapid development of new products and services available, which change dramatically every quarter. InvestaX ran one of the very first DSO events in Singapore 18 months ago, and in Feb 2020, pre-covid there was an event almost daily. On key infrastructure, just six months ago, there was only one licensed digital securities custodian in Singapore (our friends over at Propine) but in the past month, we have heard from two global banks that they will now be offering custody for digital securities by the end of 2020. Inbound enquiries on our platform have gone from a startup in ideation phase wanting to launch a seed round DSO, to those from institutions managing trillions of dollars of assets wanting to launch their first DSO.

We believe the more institutional players that enter the market will simply increase the size of the pie and startups will always be needed to service different parts of the market and to drive innovation and testing of new tech and products for the entire industry. The reality is that on-boarding at a bank is extremely time-consuming and onerous, so we expect to see some startups winning big slices of the digital securities market business.

In one of our previous thought pieces "Private Equity 2.0 How Digital Securities are Changing the Game", we discussed how digital securities open up a new world of financial products and investment opportunities as the "digitization of the private markets" opens up more of the $256 trillion of illiquid real-world assets. It is also worth reading The Future of Asset Management Consensys Part 2 research paper to understand more about the digital security industry. According to The Digital Asset Management Global Forecast 2022, the industry is projected to reach USD 5.66 billion by the end of 2022, at an expected CAGR of 18.3%. Evidently, the digital securities industry has barely scratched the surface of its full potential value and it will continue to grow in the upcoming years.
Singapore continues to be one of the leaders in the adoption of blockchain technology. The Singapore government continues to encourage companies to adopt blockchain and proactively laying the groundwork for new digital asset marketplaces. Grants such as  seed funding and FinTech Solidarity Grant aim to boost blockchain adoption by enterprises and support current Singapore-based Fintech firms amid the challenging business climate. Such support resulted in the exponential growth of companies adopting blockchain as seen in the figure below.

Many industries were crumbling due to the Covid-19 pandemic, though the pandemic has only accelerated the growth of the digital securities industry by compelling businesses to adopt digital initiatives. This forces businesses to re-evaluate their business model and regulators to implement digital initiatives and build digital infrastructures which are beneficial to the digital asset industry. As a forefront leader of the industry, we have noticed several positive developments in the space.
US Securities and Exchange Commission (SEC) granted approval to an asset management firm, Arca to issue shares of a closed-end US Treasury fund in the form of digital securities. The Fund comprises a managed portfolio invested primarily in interest-bearing and low-volatility short-term US government bills, bonds and notes. By issuing The Fund as tokens, this allows transferability through the blockchain and removes financial intermediaries, encouraging more financial institutions to follow suit. To read more about the news, please click here.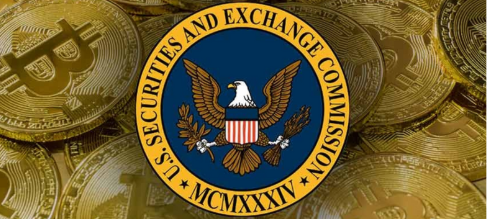 2. In June, Nasdaq announced the launch of their very own SaaS based digital asset suite, the Marketplace Services platform backed by R3, Digital Asset, Symbiont and Microsoft. This platform will empower companies across different industries to build new financial instruments that use Distributed Ledger Technology. This is a significant development as the marketplace provides the necessary infrastructure for institutions to offer their own digital securities and encourage other digital securities platforms to adopt the such platform.
"By creating the Marketplace Services Platform, we are providing marketplaces cloud-based turnkey infrastructure components and a platform to plug and play as they build, adapt and expand their business. We see this potentially becoming the de facto operating model for marketplaces worldwide" said Magnus Haglind, SPV and Head of Product Management, Market Technology, Nasdaq.
To read more about the news, please click here.

3. Tokeny Solutions became the sole provider of tokenization services for Monaco. "Monaco is moving towards its ambition to become a funding nation for progress with our STO framework. Two key milestones were achieved; a dedicated STO law was voted by the National Council and we are welcoming Tokeny to operate our STOs." mentioned by the Principality of Monaco. The passing of the STO framework is significant in ensuring the market is regulated, boosting investor's confidence and increasing the number of DSO being issued and traded. With an estimated population of 40,000, Monaco is one of the wealthiest nations with more than 30% of the population being millionaires. After the news, Tokeny announced that there are various companies lined up, waiting to capitalize on their services and friendly regulations. For more information, please click here.

4. SPiCE VC, partners with VIVA Investment Partners AG (VIP) to scale the world's first fully tokenized venture capital fund. SPiCE VC is a leading venture capital (VC) fund in the digital securities ecosystem which has revolutionized the VC asset class with a liquid tokenized fund while VIP offers alternative fund managers the necessary resources to scale their funds. This partnership will enable SPiCE VC to scale and its portfolio companies access global partnership, (disclaimer: SPiCE VC is an InvestaX limited partner and we thank them for their continued support). To read more about the news, please click here.

5. Tezos blockchain was selected by Banco BTG Pactual S.A., Latin America's largest standalone investment bank to power the bank's first STO, ReitBz and their future STO projects. To read more about the news, please click here.

6. The Singapore market continues to lead the way with another digital securities exchange being approved in the sandbox HG Exchange, you can find out more about the sandbox here. That adds to iSTOX and 1exchange platforms also building key infrastructure to digitize the private markets. It is a huge market and opportunity, and we are looking forward to working with all of these platforms.


7. Japanese bank, Nomura Holdings Inc partnered with Ledger and CoinShares to launch Komainu, a custodian to safeguard digital assets for financial institutions. As more established financial institutions explore offering custody and other digital assets, Komainu is launched to help with the back-office operations. To read more about this news, please click here.
8. Asset rating giant, Morningstar rated its first securities issued on a blockchain in a $39.7 Million Fatburger deal. The use of Ethereum sped up access to data on the securities as a result of the increased transparency, paving the way for a more pure class of crypto-assets native to the blockchain.
"It's definitely the first rated securitization with a digital asset element, and we're using it the way it was intended: to provide that level of transparency," commented by Nelson Chu, founder and CEO of Cadence.  To read more about this news, please click here.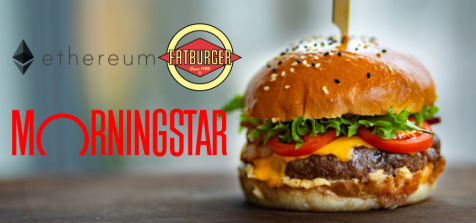 9. Another interesting example is Wave Financial's Whiskey Digital Security. Digital asset manager Wave Financial's tokenized a whole year supply of Kentucky Bourbon. Why whiskey? Wave Financial team decided on whisky due to its booming demand, resilient to adverse market conditions and a better alternative to collateralized bank loans. To read more, please click here.
10. Tokensoft partners with Signature Bank to launch real estate security toke platform. Tokensoft's is a private label platform that allows tokens to be branded according to client needs. The partnership with New-York based Signature Bank provided custody of U.S dollar and real-time transfer of dollar through the bank's blockchain-based payments platform.  To read more, please click here.

11. Securitize Japan becomes the first global token issuance platform to join the Japan Security Token Offering Association (JSTOA). JSTOA was formed by 6 major Japanese brokerages to consolidate expertise on securities and develop security tokens business opportunities in Japan.  Being a US-based company, Securitize was unable to join the association until now as they only accept Japanese-regulated entities. To read more, please click here.

If you are interested to read more about tokenization and the digital asset industry, read this interesting article from BNY Mellon.

Finally, some of the most significant developments in the space for Q2 happened right here by our own team with the launch of the DESOP or digital employee share option plan. This enormous market is complex, illiquid and still lives on paper. To find out more you can read ESOP 2.0 Digital Employee Share Option Plan. The problem is huge, and the solution is now here.
To conclude, despite the significant disruption caused by Covid-19 pandemic, we are happy to say that the digital securities industry is moving in the right direction and quickly. The recent developments have shown significant positivity and importance in bringing the industry to the next level.
InvestaX is the leading licensed digital securities issuance, investment, and divestment platform for real estate and private equity.

Please join us to get the latest research, news, projects and data on digital securities www.investax.io.