InvestaX & partners have been working hard to understand the challenges and opportunities at hand from COVID-19.  InvestaX has been speaking with our partners on the ground in Australia to understand the macro/micro environments and has already began assessing distressed opportunities across the capital stack, and across asset classes in the Australian market. We believe it is important for our investor community to be ahead of the curve, so today we bring you this special report on where we see the distressed opportunities unfolding in the Australian real estate market with insights from our team and our Australian real estate partner, Jameson Capital.
The narrative we want to share with our investor community is that the Australian economy is suffering like all economies, and there are niche investment opportunities forming that should be considered and explored. The other important point to convey is that once we get through a downturn, Australia is expected to have a stronger and faster recovery than other developed markets that are suffering great impact from COVID-19.
Below we share some key charts and information from our latest partner, Jameson Capital, a Melbourne based independent funds management firm specializing in opportunistic real estate and private equity.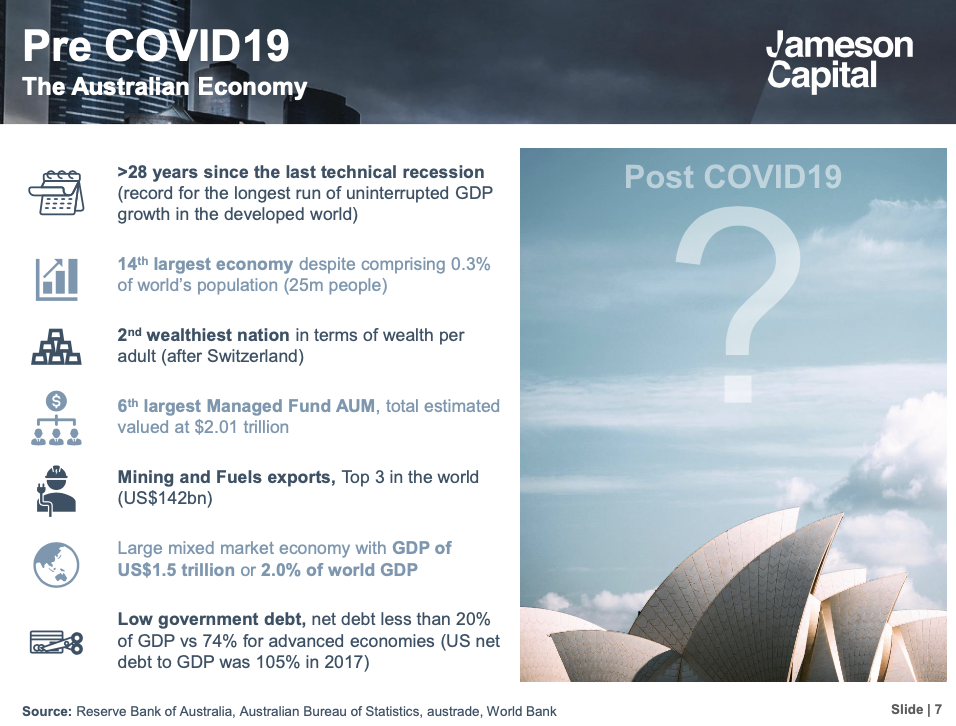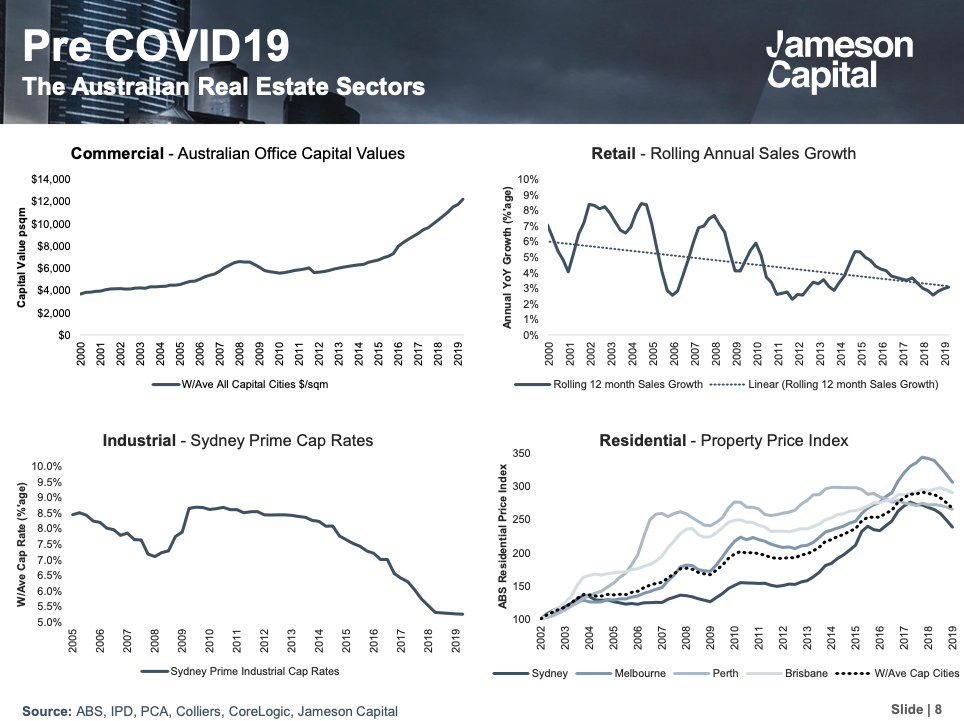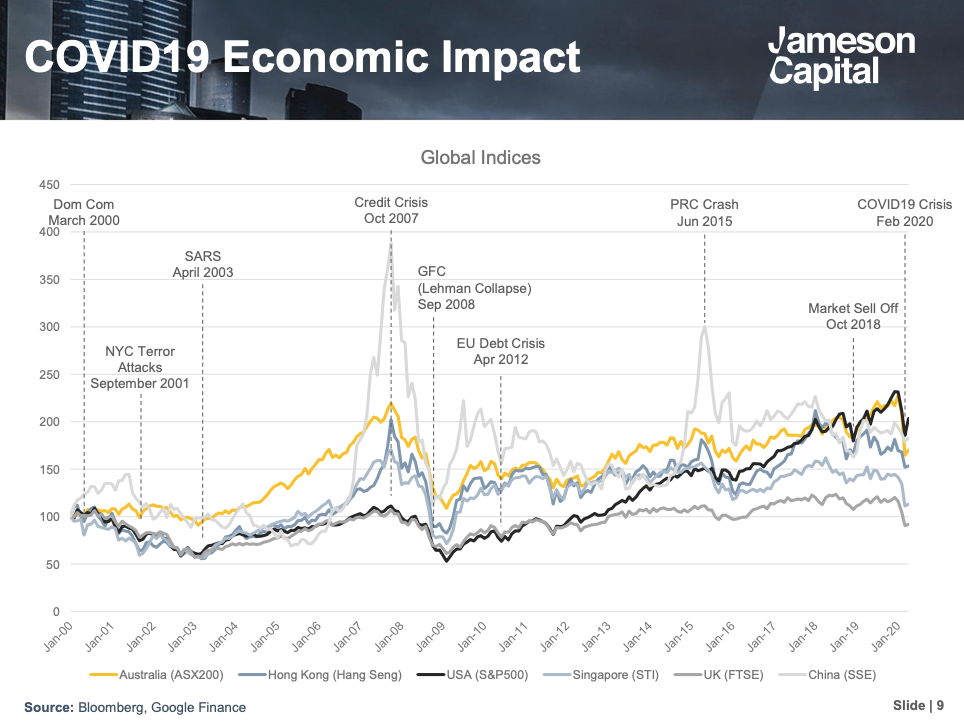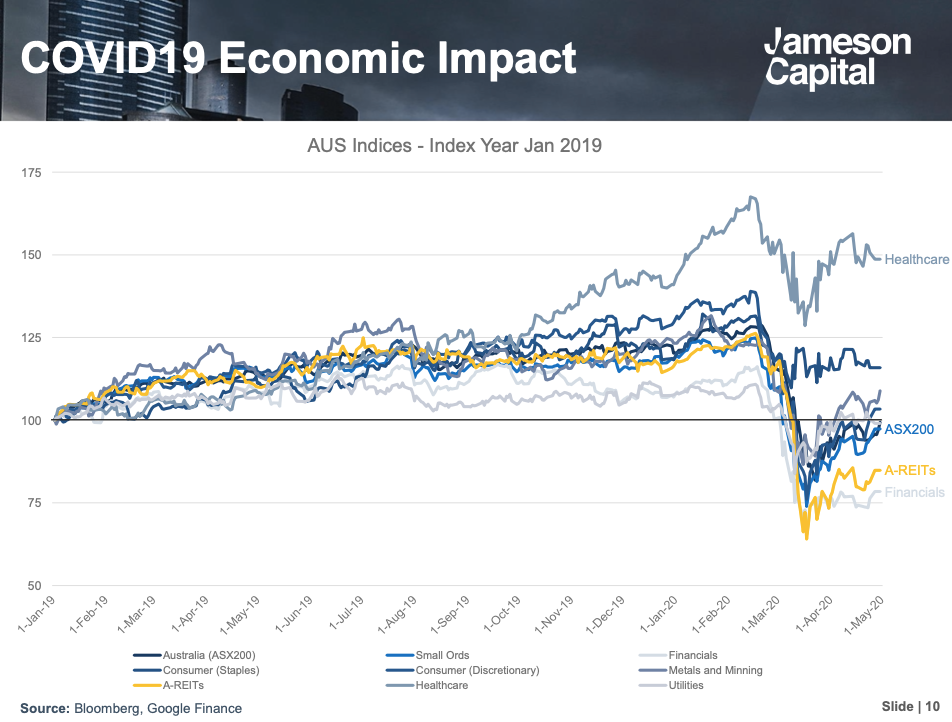 For 2020, the IMF forecasts a -6.7% negative growth of the Australian economy while unemployment is expected to rise to an average of 7.6%. These numbers look devastating, and indeed, according to the IMF report, the Australian economy will be one of the most worst-hit economies among the 20 biggest economies of the world. But how does that affect the real estate sector in Australia?
"It is very likely that this year the global economy will experience its worst recession since the Great Depression" - Gita Gopinath (IMF, Chief Economist)
"Unemployment to soar to highest rate in 30 years"ABC news
"Aged care sector pleads for $1.3B emergency intervention" Sydney Morning Herald (SMH)
"House prices could fall 32 per cent under 'prolonged' slump: CBA" (SMH)
Falling Real Estate Prices
The recent Westpac consumer survey has identified a complete loss of confidence in the Australian housing market. According to the survey, confidence levels have taken the biggest monthly hit in its 47-year history.
This lack of confidence is also reflected in rapidly falling real estate index prices. The alarming signals show that the economic downfall from other parts of the economy have definitely reached the Australian housing markets. The recent fall in confidence levels is perfectly illustrated in the below Consumer Confidence Sentiment indicator.
Westpac-Melbourne Institute Consumer Confidence Consumer Sentiment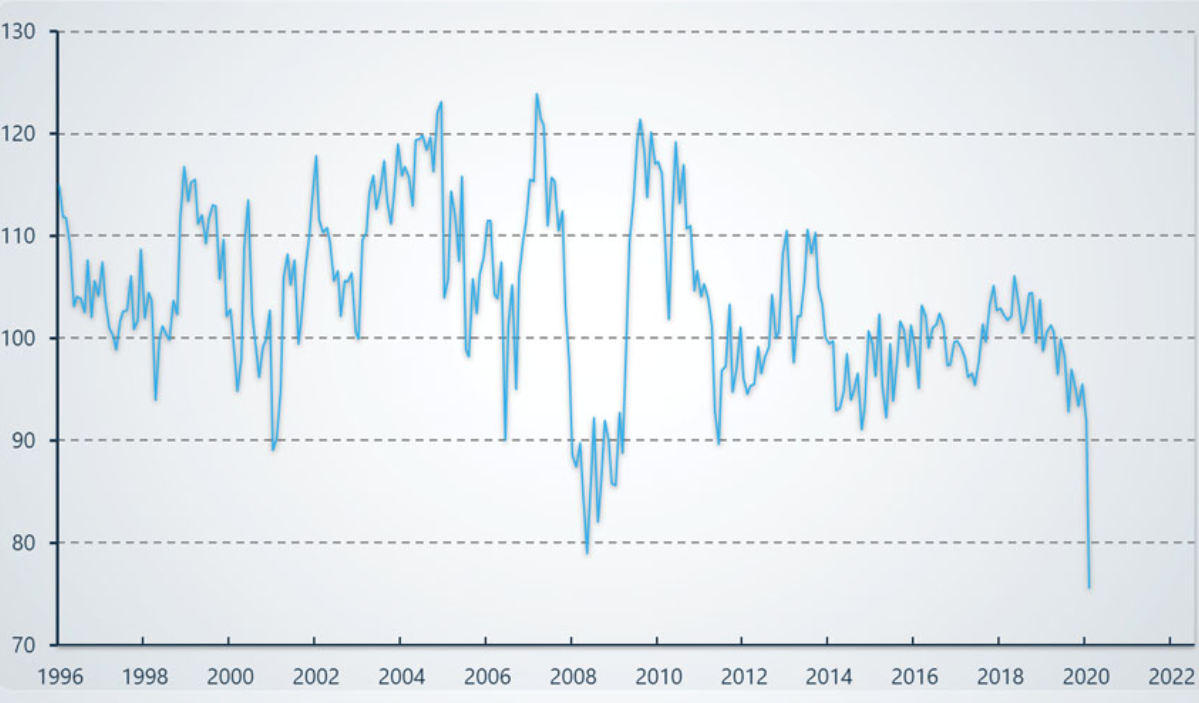 "It indicates that the confidence around the economy, spending and jobs is spilling over into housing." - Bill Evans (Westpac, Chief Economist)
As confidence levels plunge, it is not surprising that recent reports show real estate prices trending into negative territory.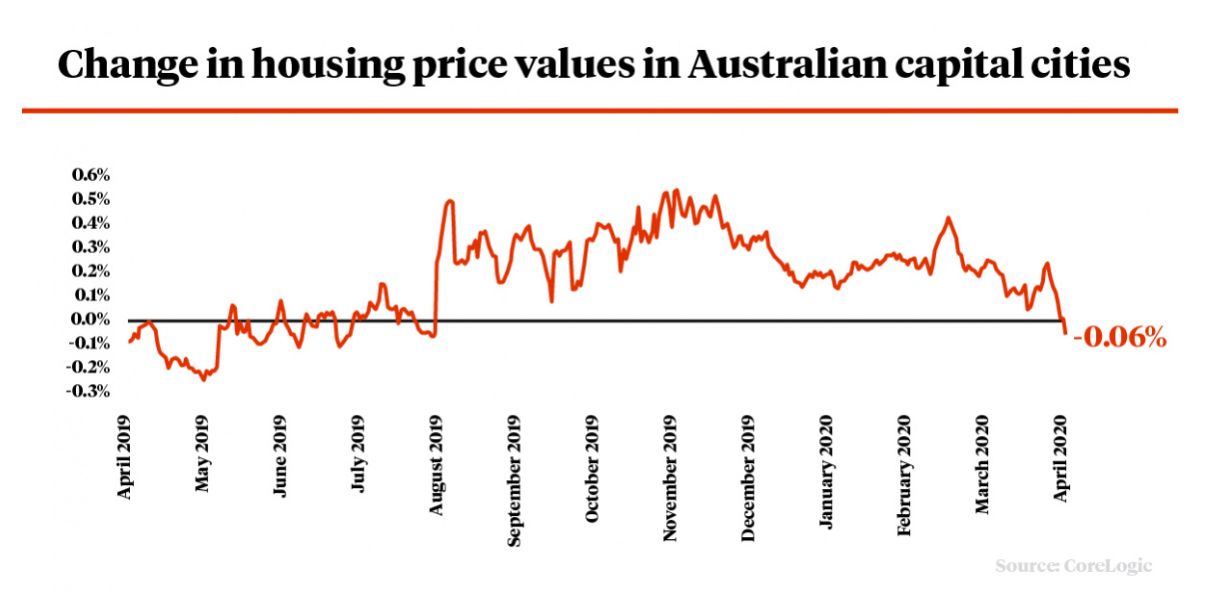 These two articles in the Sydney Morning Herald and news.com.au show that the Commonwealth Bank of Australia expects worst-case discounts of up to 30%. As well the best-case scenario of 11% discounts seem devastating. The big price drop in real estate is best explained by the the current mix of unstable income situations, a high unemployment rate and the lack of confidence in consumption and investment.
National Australia Bank Business Indicators Business Confidence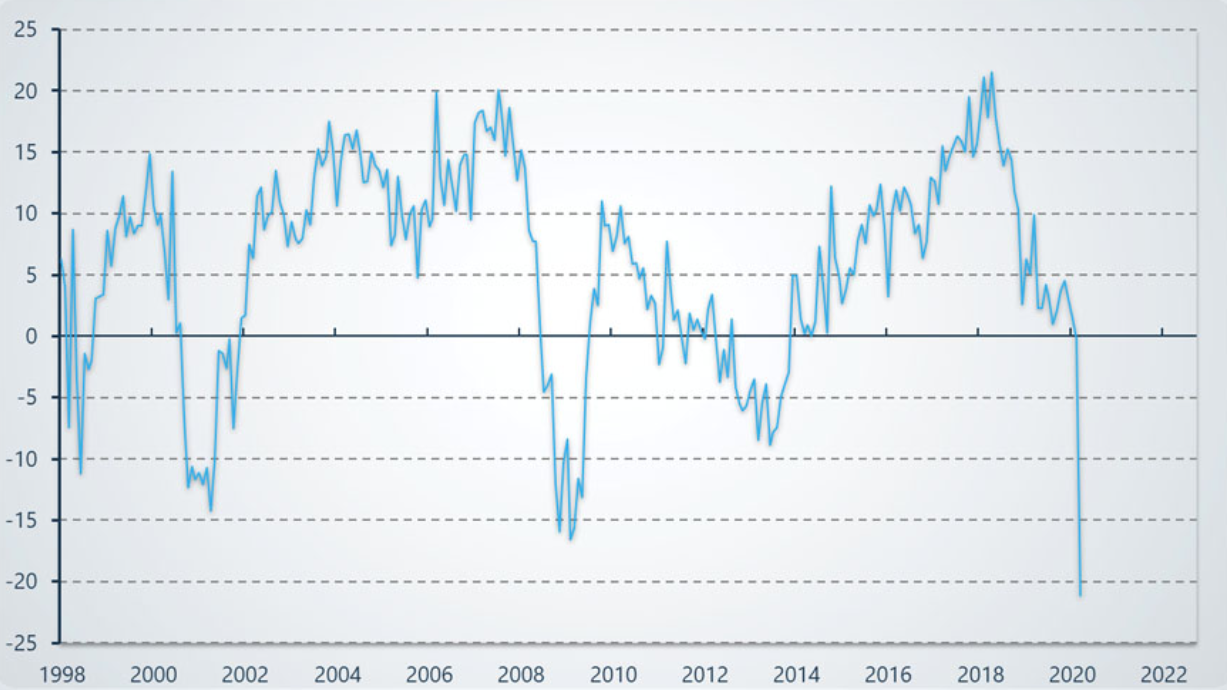 The Covid-19 pandemic has already caused many Australians to lose their jobs. According to a recent report of the Australian treasury, unemployment rate is expected to rise over 10%. This is the highest unemployment rate for Australia in the last 25 years. Moreover, others are working in a reduced working scheme or have to stay at home completely. Restaurants, bars and other businesses are forced to remain closed, therefore, struggling to pay rents, salaries, outstanding loans, which have a domino effect on other businesses.
"We could see a 10 to 15 per cent fall in house prices over the next 12 months." – Trent Wiltshire
The pressure on disposable incomes has several negative implications, one of them is that people will struggle to service their debt and loan repayments. Hence, default rates will inevitably increase. Simultaneously, it is natural that real estate assets lose some of their value in case of increasing default rates since their value is primarily derived from the underlying cash flows.
The Effect of Falling Migration
Besides the "obvious" negative impacts on the real estate market, a recent report by UBS highlights the impacts of migration (or lack thereof) in Australia on the real estate market.
"The latest official figures show net overseas migration of 232,100 people for the year to last September, accounting for nearly two-thirds of annual population growth." – Financial Review
The UBS report indicated that migration is seen as a primary source of demand for Australian housing, and with nation-wide adopted safety measures, there is a complete halt of cross-border migration. This means the longer that mobility across countries is restricted, the more real estate prices will suffer.  A full reopening of borders and a surge to old migration numbers will probably take several months, if not longer.
"Meanwhile, we also expect house prices to decline at least 10 per cent in the coming year, in line with our 'full pandemic scenario'. Indeed, without an easing of mobility restrictions, and/or more direct policy support, the price falls will likely be larger." – UBS
Current Opportunities
There has been some swift action by the Australian government as you can see below and the situation is evolving daily, but we believe now is the time for investors to be thinking about how best to place capital in this situation and what we believe makes the most sense in the period ahead.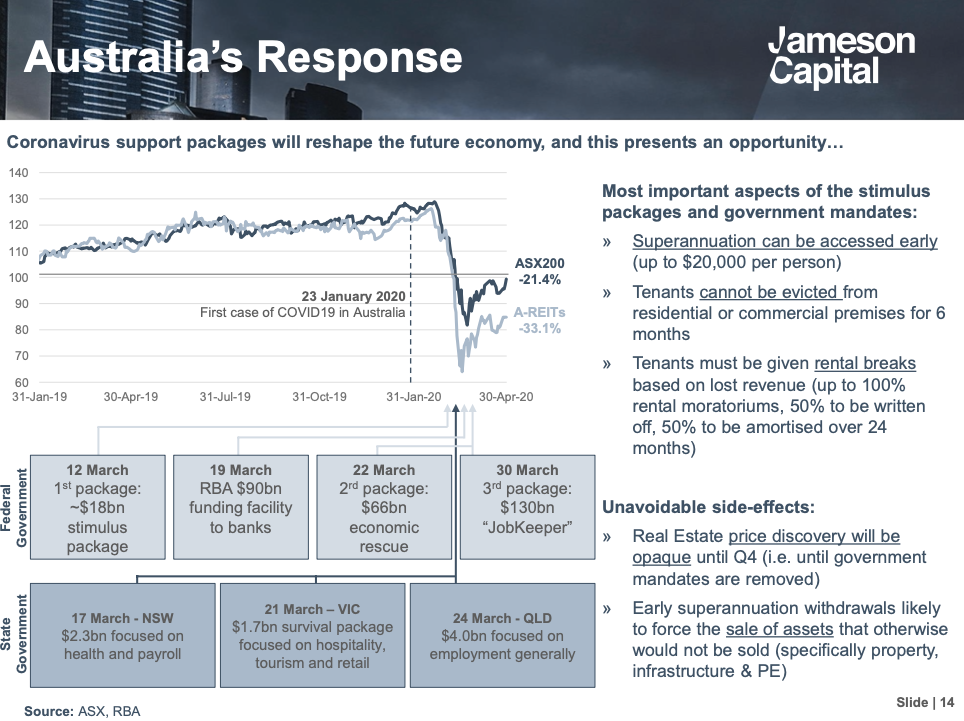 Due to government stimulus an unavoidable side-effect: » Real Estate price discovery will be opaque until Q4 (i.e. until government mandates are removed)
Jameson Capital uses their expertise in the market and deep relationships and connections to formulate an investment strategy that we believe makes the most sense for the market that we are in now. There will be different opportunities and investment plays that play out over the next 1,2,3 quarters and beyond, and having flexibility to capture these opportunities is the ideal situation to be in.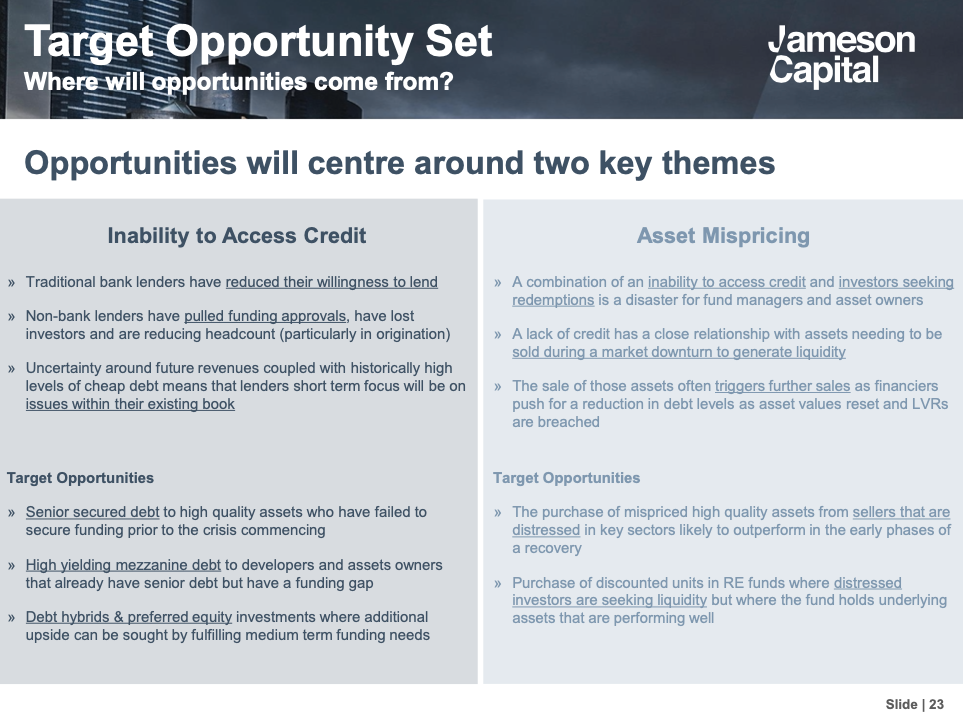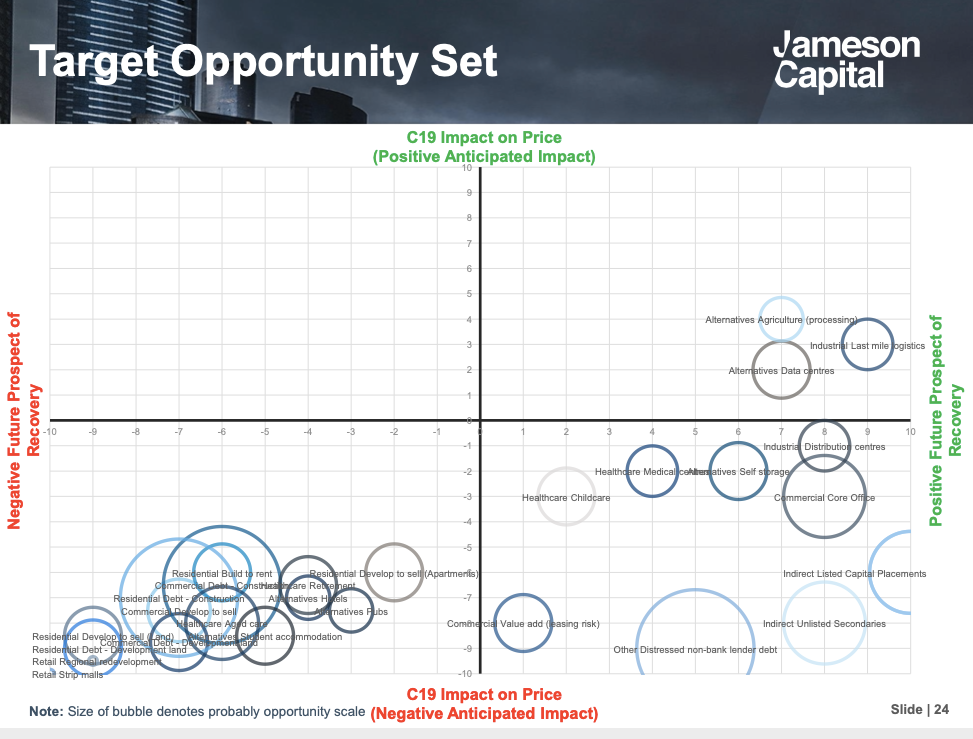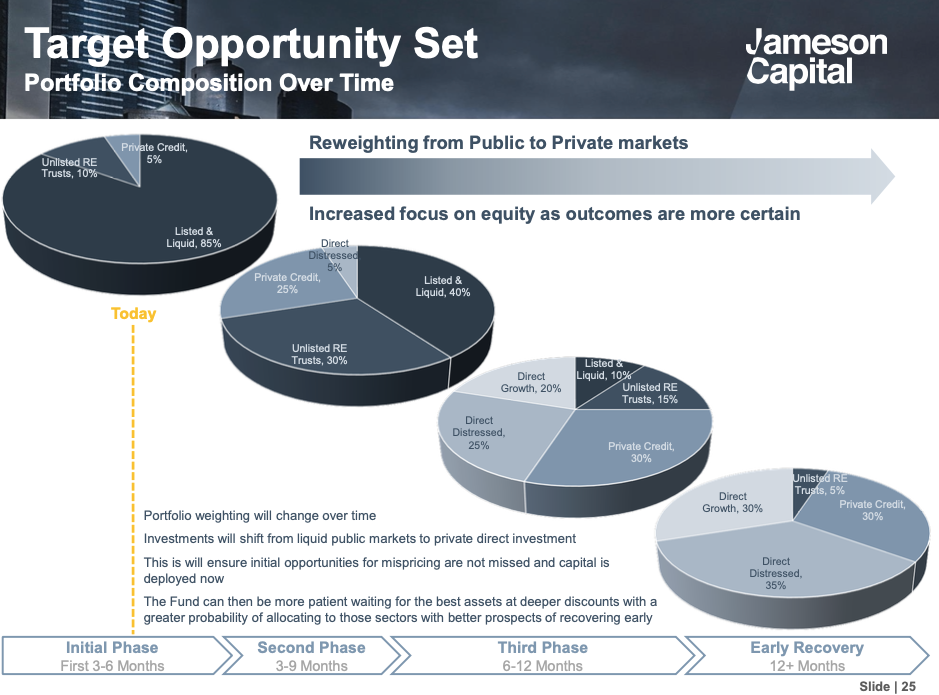 As we highlighted above, there are some sectors that will feel immediate impact from the recent market conditions and other opportunities that will take more time to play out, but preparing for these opportunities now is what Jameson and InvestaX believes is the right strategy for our investor community looking ahead.
We believe a short term special situation distressed fund is the right vehicle for investors in this environment, to capture the strongest risk adjusted returns, and allow our partners on the ground in Australia to move quickly into the right opportunities including both distressed debt and distressed equity investments.
In addition, InvestaX 's digital securities, provides investors enhanced optionality and liquidity, offering a way to trade their holdings before the expiration of the fund term.
For more information regarding Jameson Capital and InvestaX's special situation opportunities, please reach out to the team at support@investaX.io
InvestaX – Digital Securities
InvestaX is a Singapore licensed (No.CMS 100635-1) digital securities issuance and trading platform specializing in real estate private equity.