InvestaX is a Singapore-based licensed digital securities investment and trading platform that specialises in real estate and private equity. InvestaX supports public and private blockchains, and offers global products to local and international investors, creating efficiencies and liquidity in the private capital markets.
Q3-20 saw a growing momentum in the industry as additional infrastructure comes online to facilitate the end-to-end issuance and trading of digital securities, and more institutionally-backed projects go live. From around the globe, here are some of the latest highlights this quarter:
Thailand's stock exchange implementing DLT for settlement
Digital bond issued by SGX with Temasek and HSBC
DTCC looks to dematerialise securities as digital future looms
Nomura bank and partners launch Komainu digital custody for institutions
HSBC plans for digitized capital markets
Archax became the first UK licensed digital securities exchange
Coinbase, HSBC and Standard Chartered bank are all offering or moving to offer digital securities custody now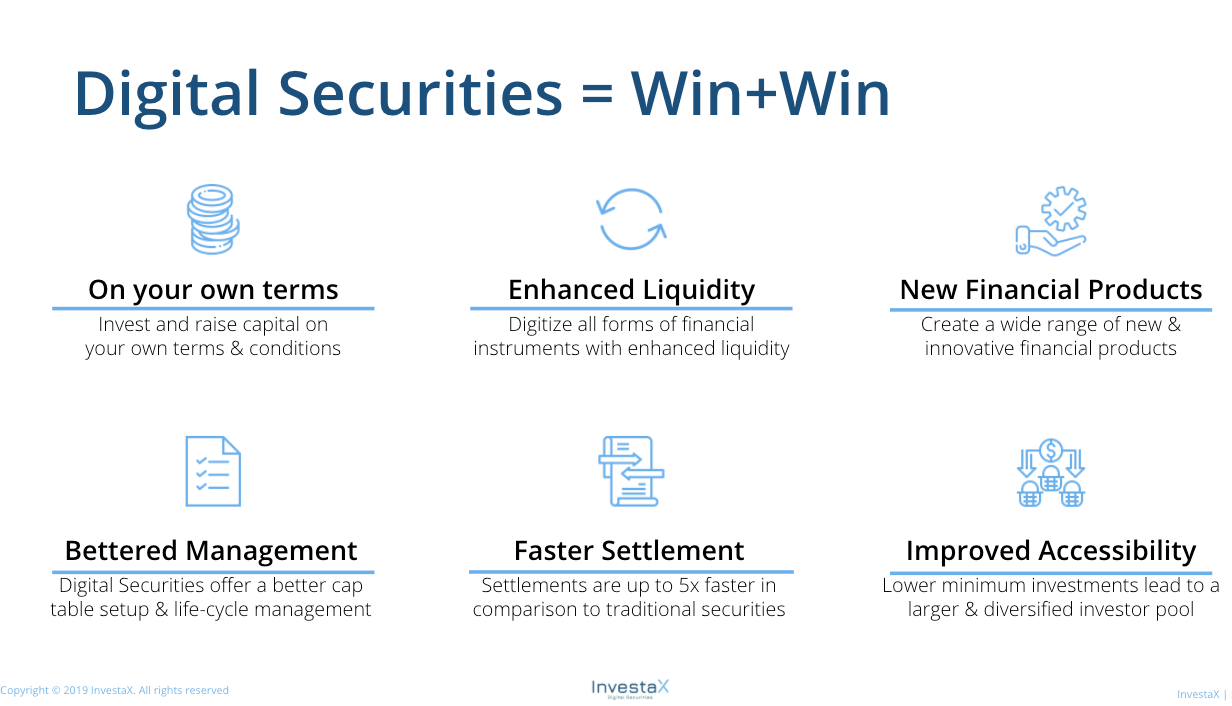 New technology continues to transform global capital markets, and COVID-19 has only accelerated this transformation. In that, new technologies lead to the enormous and rapid growth of the capital markets – in volume as well as type of products – a trend we have written about previously here.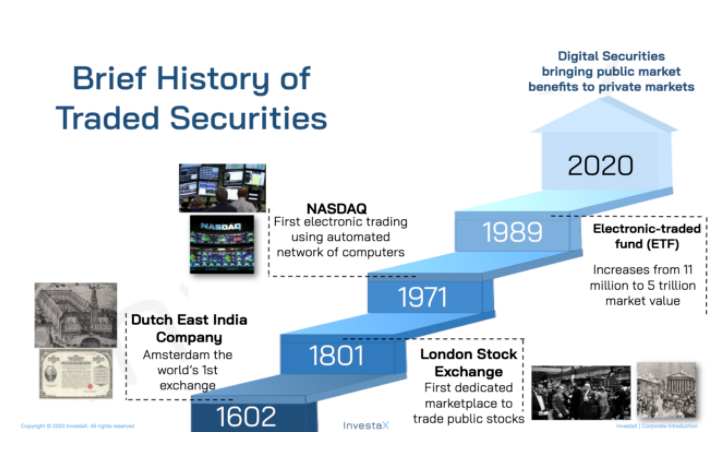 For the private markets (including real estate and private equity, which are InvestaX's target asset classes) not enough has changed for over a century. We believe that distributed ledger-based technologies, such as Blockchain, and "smart contracts" will enable a paradigm shift in this industry, and that is why, we have built a trusted and compliant one-stop shop for investing and trading in digital securities that are backed by private equity and real estate investments.
To date, there were three serious bottlenecks that stalled the growth of private markets-based digital securities:
Poor quality offerings at industry launch in 2017/18
Lack of the necessary capital markets infrastructure (broker-dealers, exchanges, custodians, etc.) in 2018/19
Dual jurisdiction-issues between the domicile of offshore funds and that of the fund management operations
Digital securities (more popularly known as security tokens) were introduced in 2017. As is with any new and growing lucrative industry, there were many ill-intentioned actors to weed out initially, but the more critical issue was that of low-quality products – sold by those with no capital markets experience to those gullible investors that had no capital markets experience. In 2018/19, key infrastructure began to be built and licensed, which led to some serious interest from global institutional investors (finally). Unlike cryptocurrency, which is unregulated and began with retail issuances to retail investors, digital security offerings (DSOs) – or security token offerings – needed exactly this: institutional issuances for institutional investors. DSOs are fully regulated, besides being backed by sophisticated technology. Once the trusted infrastructure is built and battle-tested, it will eventually open up access to retail investors interested in the private markets opportunities. For example, in 2018, the Monetary Authority of Singapore, the country's financial regulator, proposed to create the RMO Tier 1 within the RMO regime (the RMO is the exchange license for secondary trading of securities), allowing market operators access to retail investors and hinting at the direction our industry is heading toward.
The final bottleneck for digital securities adoption was the actual investment vehicles themselves. Digitising or tokenising any investment fund or vehicle is possible, but it is obviously much easier if both the fund domicile as well as the fund management operations are in the same jurisdiction. Singapore's Variable Capital Company legislation (VCC) offers a customized corporate structure that can be used to set up investment funds, including closed-ended funds, under both stand-alone and umbrella fund structures. Moreover, the VCC structure dispenses with elements of Singapore's existing company law aspects that are not conducive to global investment funds, especially in the alternatives space.
With the availability of the VCC legislation, especially in a jurisdiction that is highly supportive of blockchain-based digital securities and platforms, such as InvestaX, all the aforementioned issues are beginning to be resolved. Read more about the SVCC and the game-changing benefits of using it here. Reportedly, despite the COVID-related regression in economic activity globally, over 200 VCCs have already been set up in the first nine months since its launch. So, it is not unreasonable to expect the launch of another 500-1000 VCCs next year, opening up the possibility of providing fund managers a full suite of services, including the issuance of their funds digitally and the ability for VCC shareholders to trade their holdings on a platform like ours.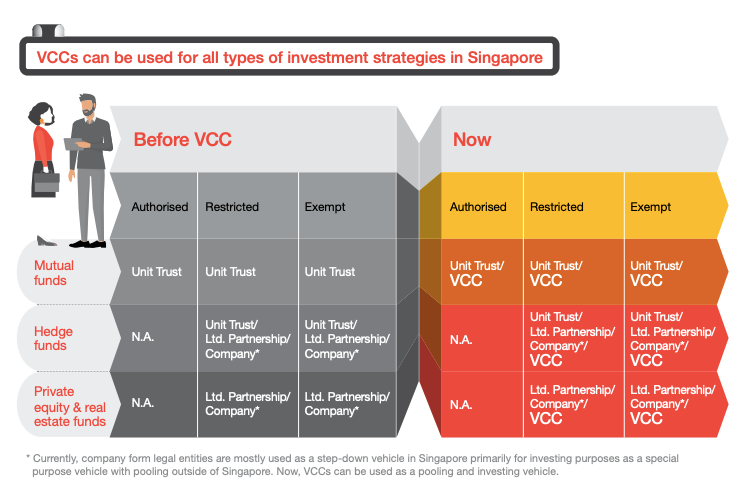 What is more, Singapore continues to serve as the Global-Asia Pacific gateway for asset managers and investors. In 2019, 76% of AUM originated from outside of Singapore, and 69% of AUM was invested into the Asia Pacific region. The Asia Pacific remained a key source region with net inflows from clients increasing by 21% in 2019, and funds invested into the Asia Pacific region saw growth of 24% in 2019. According to MAS' 2019 Asset Management Survey, total assets managed by Singapore-based asset managers grew by 15.7 per cent to S$4 trillion in 2019. Singapore has also proven itself to be a top 3 global jurisdiction for investment management, blockchain infrastructure growth, and regulatory support for this industry. InvestaX is excited to be at the forefront of capturing that value by building the digital future of private markets. In a fast-moving industry like ours, it is best to measure growth in quarterly increments, and we have written about the key industry developments for 2019 here and 2020 Q2 here.
Real world adoption of blockchain in capital markets is rapidly growing with many global institutions already on their second or third blockchain-focused projects (see the chart below). InvestaX is also to issue digital securities on both private and public blockchain protocols, enabling us to offer our services to global products that are looking for trading platforms globally. Public protocols offer greater global distribution and interoperability for investors around the world, but private blockchain protocols offer greater level of security, performance, and compliance.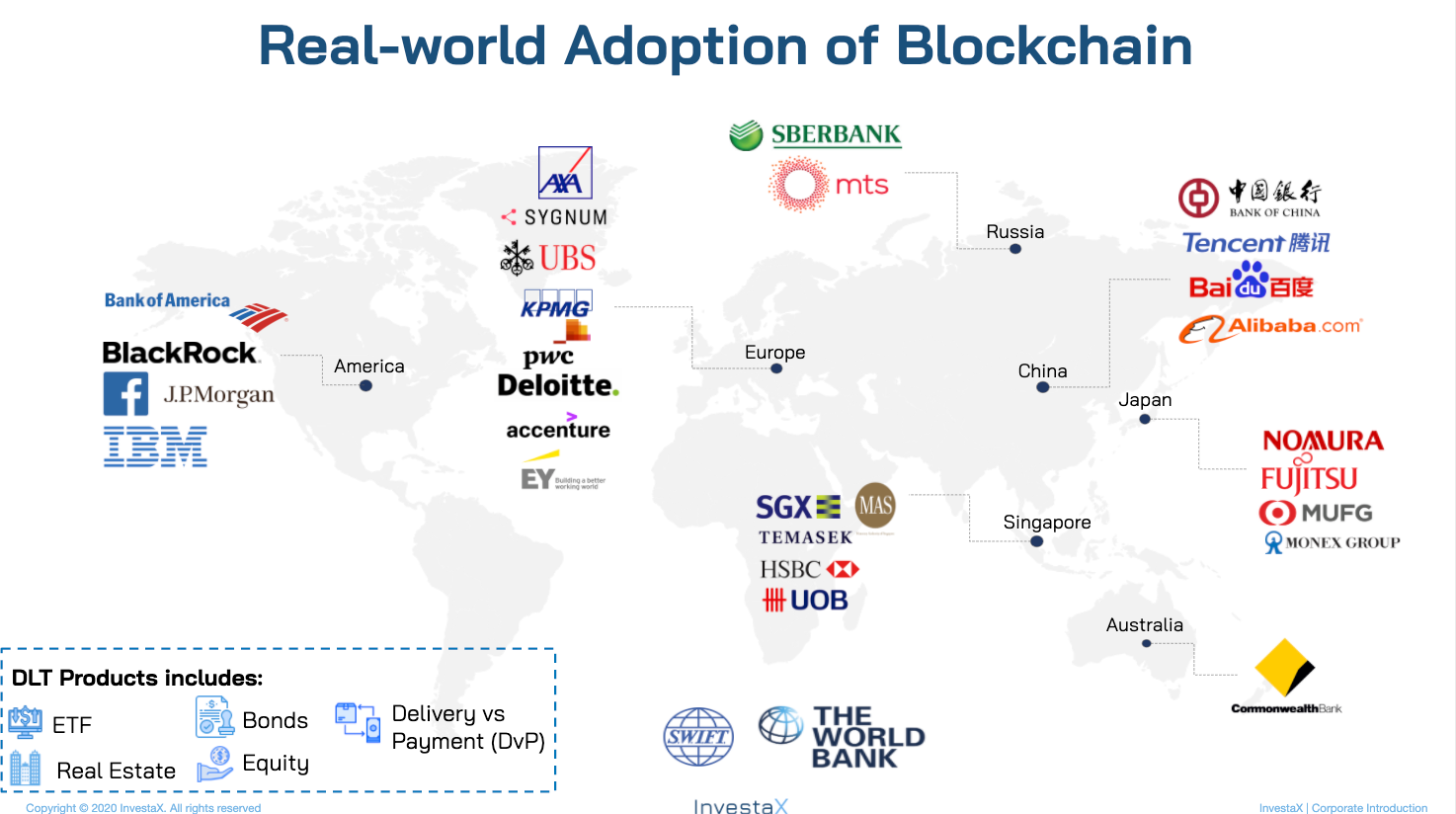 The real value of the blockchain technology and its close cousin "smart contracts" is in developing new, technology-driven investment structures, including programmable debt and equity. For example, we recently launched the world's first trade-able ESOP, which we call the Digital ESOP (DESOP). This is only the tip of the iceberg. The best analogy for the evolution of this industry is the launch and development of the ETF industry: $11M at one point to $5T USD today, which we wrote about here.
Decentralised Finance (DeFi), too, is growing at a rapid pace, and many central banks are working on their national digital currency projects. What does this have to do with InvestaX? All of this development is creating the necessary infrastructure, market participation, and momentum to propel the adoption of digital securities forward. In July 2020, the MAS and Temasek jointly released a report to mark the successful conclusion of the fifth and final phase of Project Ubin. The report "Project Ubin Phase 5: Enabling Broad Ecosystem Opportunities", provides technical insights into the blockchain-based multi-currency payments network prototype that was built and describes how the network could benefit the financial industry and blockchain ecosystem. Project Ubin was commissioned to explore the usage of distributed ledger technologies for the clearing and settlement of payments and securities.
InvestaX, offers a one-stop-shop for issuance, trading, and custody of digital securities backed by real estate and private equity. With a strong track record, institutional LPs and having had a broker-dealer license for dealing in securities since 2017, we now await the final approval for our exchange license.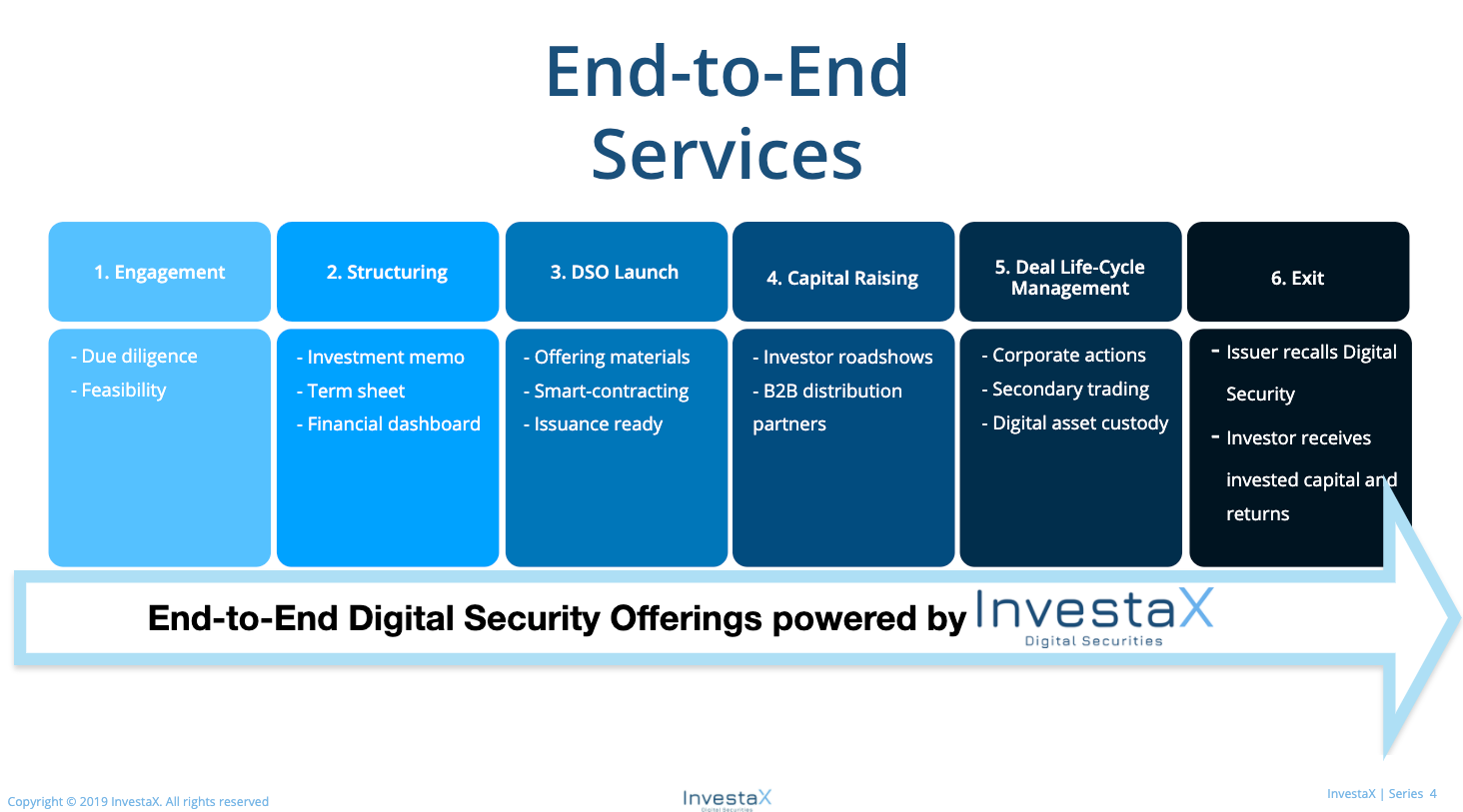 Our service offerings connect the true value of blockchain efficiencies with the necessary licensing and services, along with our sophisticated user experience. This sets us apart in the industry, making us a high-value acquisition target for leading financial institutions.
We believe we have the right team, the right global location and the right market timing. Please join us at www.investax.io.