Digital transformation is one clear theme or mantra that is being accelerated across every industry with the current pandemic, pushing companies and investors to seek new and improved approaches to what they may have been used to previously.
Apart from the need to seek contrarian investment themes, investors have been demanding more transparency, more flexibility, and well adjusted risk/return investments.  
InvestaX is excited to announce our latest partnership with Charismatic Capital, manager of a debt-equity fund that specializes in margin stock loans.
Charismatic Capital has implemented two game-changing digital innovations to their latest offering that we are excited to now share:
Digital loan platform to allow borrowers to quickly apply for a loan online and  investors transparency and access to every loan the fund executes as well as all necessary reports related to the fund performance itself
Digital security offering through InvestaX, allowing investors the ability to trade in and out of their positions before the fund expiration term
These two added dimensions to the fund, make it the leading fund of its type anywhere in the world and bring clear and measurable benefits to investors seeking exposure to this asset class. We dive deeper into how this works for investors below.
The "Smart Lender" - Charismatic Capital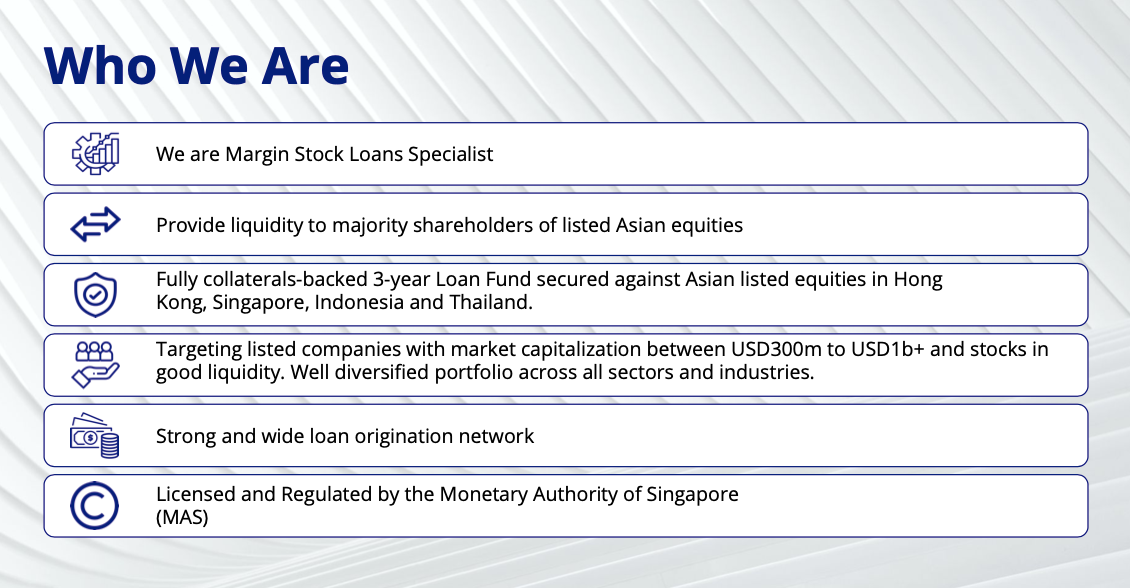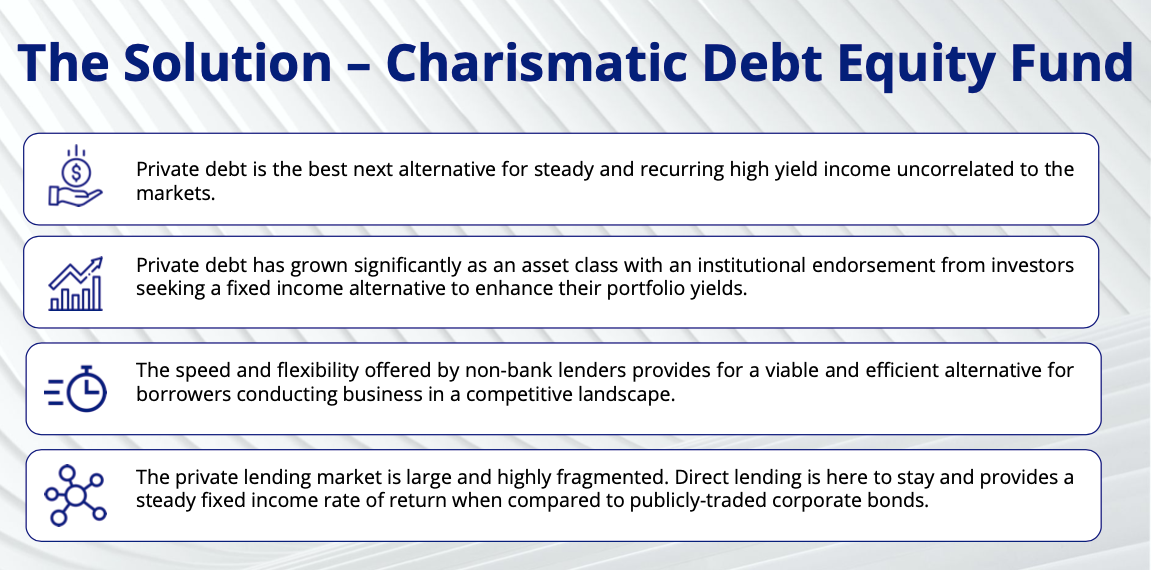 Economy
Investors betting on a sustained recovery in Asia Pacific are seeing their hopes dimming by the day. The risk of a second wave of infections, ongoing nationwide lockdowns and a collapse in commodity prices all mean that regional stocks could see another leg down, as much as 20%, some market participants said.
Risk Appetite has been blind. Stock Buyers Brace for Correction –Bloomberg article (22/4/20)
The MSCI Asia Pacific Index's steady advancements was jolted recently as a sudden collapse in oil prices deepened recession fears. The slump in oil prices paints a grim picture of an economic morass as traders expect total destruction in demand. In the short period since the earnings season began, cost cuts, workforce reduction and factory closures have been prevalent in management commentary. Consensus profit projections for MSCI Asia Pacific Index members over the next year are currently revising down just 11% from January. Goldman Sachs has a more aggressive forecast of a 22% slump for Asia Pacific excluding Japan companies in 2020.
Opportunities
As the geographic focus of Charismatic Capital is Asia, with stocks listed mainly in Hong Kong, Indonesia, Singapore and Thailand, we are likely to see incredible opportunities across virtually all sectors and industries in these countries. Stocks' valuations have corrected and are expected to fall further, coupled with the steep discount Charismatic requires on the lending value of 60% to 70%, providing further protection to Charismatic's stock loan strategy by mitigating risks with much lower entry levels for new stock loans.  With a surge in stock loan demand, there is now an opportunity to cherry pick the highest quality stock portfolios.
The existing stock loan portfolio of Charismatic Capital has been, so far, resilient to the stock market correction, as its loan to value is consistently low at 30% to 40% and there is sufficient buffer to withstand further fall in the stock market.  Borrowers are still timely servicing their monthly loan interests, further illustrating Charismatic's prudent approach in selecting stock collateral and borrowers.
In December 2019, even before Covid-19, Charismatic embarked on a vision to streamline its stock loan process and provide transparency to investors through a customized online portal, portal.charismatic.fund .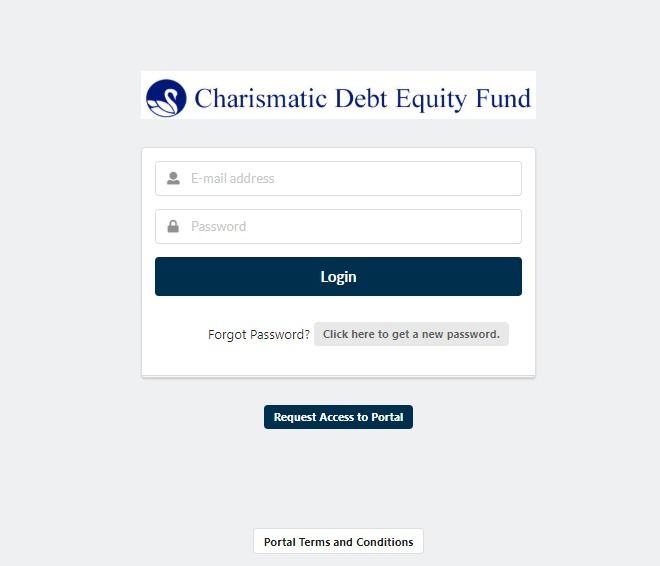 The Charismatic online portal was officially launched in March 2020. With current global lockdowns, this online portal has proven to be extremely useful and efficient to conduct margin stock loan business as usual, and well-positioned to accommodate the current surge in stock loan deal flows.
In times of COVID-19, digitalization is pushing forward more than ever before. Investors of all kinds are now rethinking their relationship to stock loans and the massive impact COVID-19 has had on different asset classes and investment structures. COVID-19 has accelerated the push to digital: from paper to paperless, from physical to virtual. There is simply no other way to operate today, as this McKinsey research emphasizes.
Intermediaries/Referrers and Borrowers
Charismatic now facilitates the loan process professionally and quickly, reducing turnaround time from average two months to under two weeks. All financing terms, term sheets, KYC forms and legal loan documents are uploaded in the portal. This guarantees accuracy , swiftness and confidentiality. Each user has its own record of all its loan requests, outcome and documents.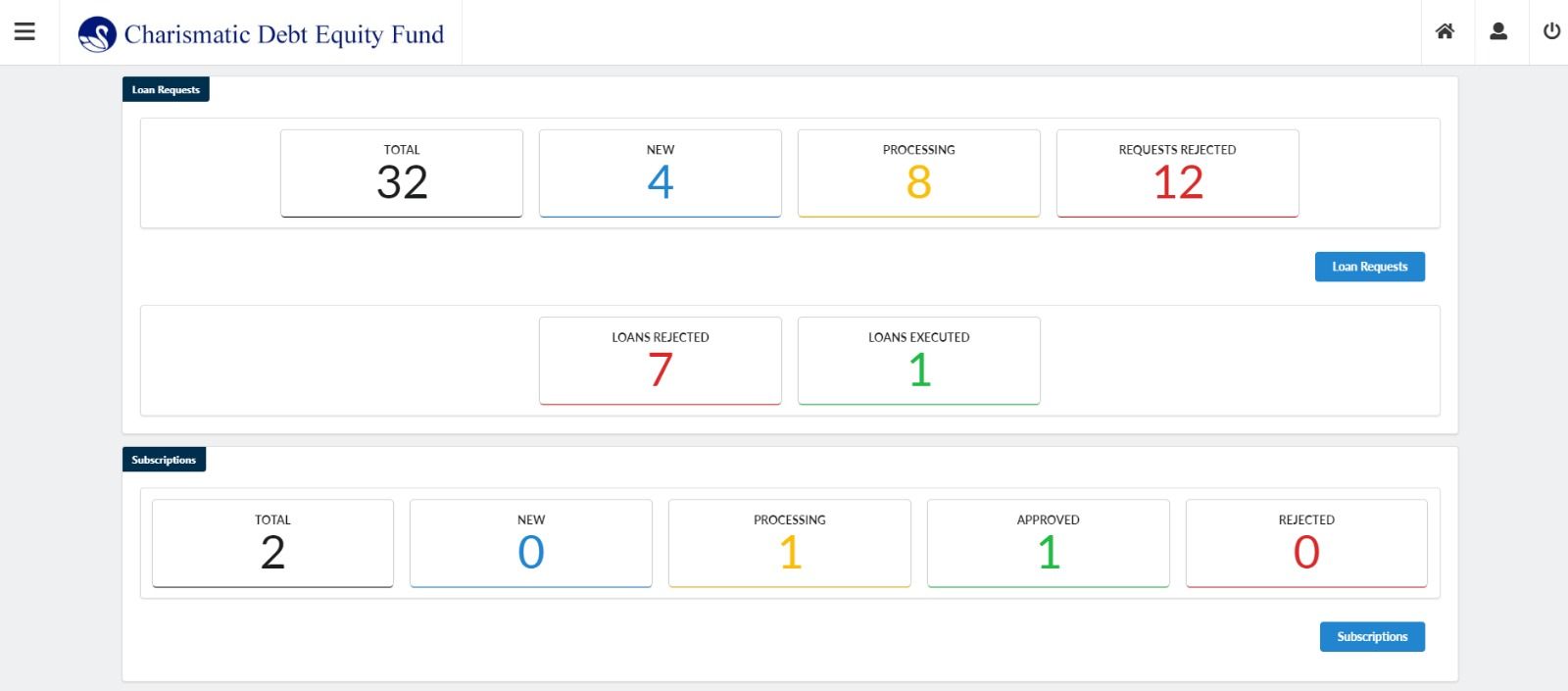 You can apply as an individual, corporation, partnership, trustee or trust. Note that every applicant has to fulfill certain criteria in order to get the Accredited Investor status.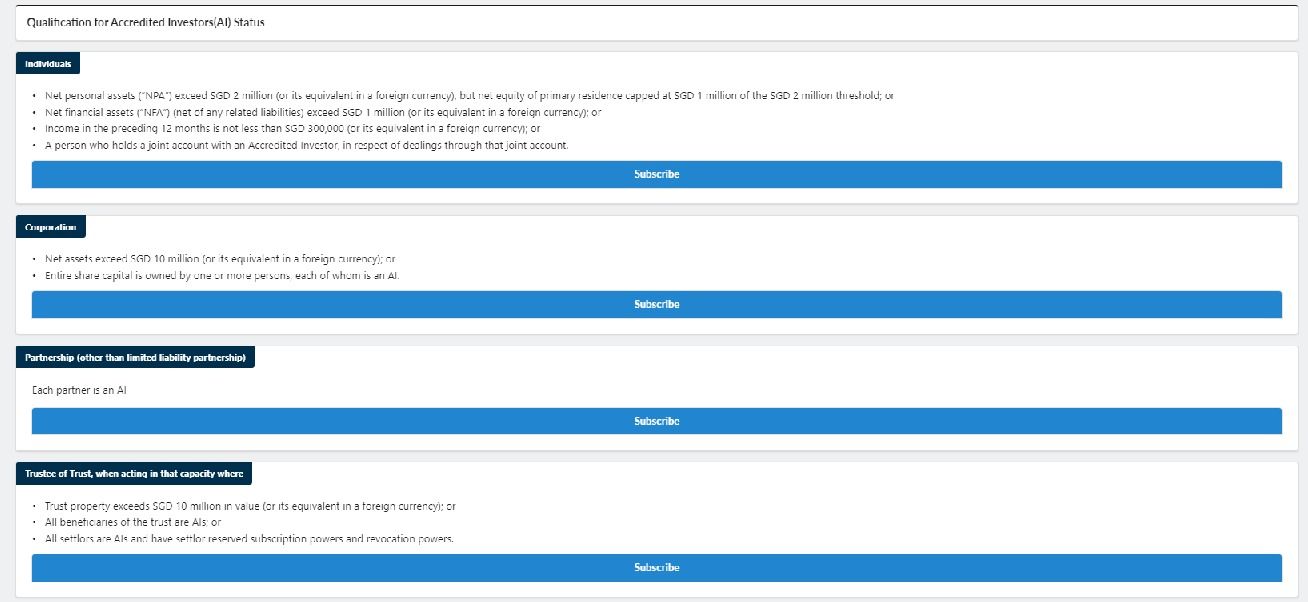 Investors
The online portal provides transparency to investors who seek recurring and steady high yield investments by allowing instant access to existing loan portfolio with actual investment profiles, pipeline stock loans and past stock loans.
Fund details, performance and regular fund updates will all be available through the online portal, and each investor has its own record of fund subscription, net asset value (NAV) and distribution/redemption. This provides transparency and privacy to the investors.
How Investors Benefit
With global interest rate almost close to zero, many investors with dry powder are struggling to find mid-term investments with steady recurring yield in the double digits.
Private debt funds like Charismatic are seen as attractive alternatives to bonds, many of which are currently downgraded and defaulting in the midst of falling valuations.
Charismatic is a 3 year fund licensed by Singapore's Monetary Authority of Singapore in direct lending fully secured against Asian listed equities. Its first Irish Fund of USD 630 million, in identical investments, has a one year track record of 7.16% pa net return. All fund details are available through its online portal.
InvestaX – Digital Securities
As a Charismatic Capital partner, InvestaX is now offering all fund investors new technology-driven investment structures known as digital security offerings (DSO). All investors in the fund have the option to hold their shares as a digital security on our blockchain-powered platform. Holding securities on a blockchain offers investors various benefits in comparison to normal e-securities. A few of them are mentioned below including enhanced liquidity through a secondary exchange, improved accessibility and lower transaction costs.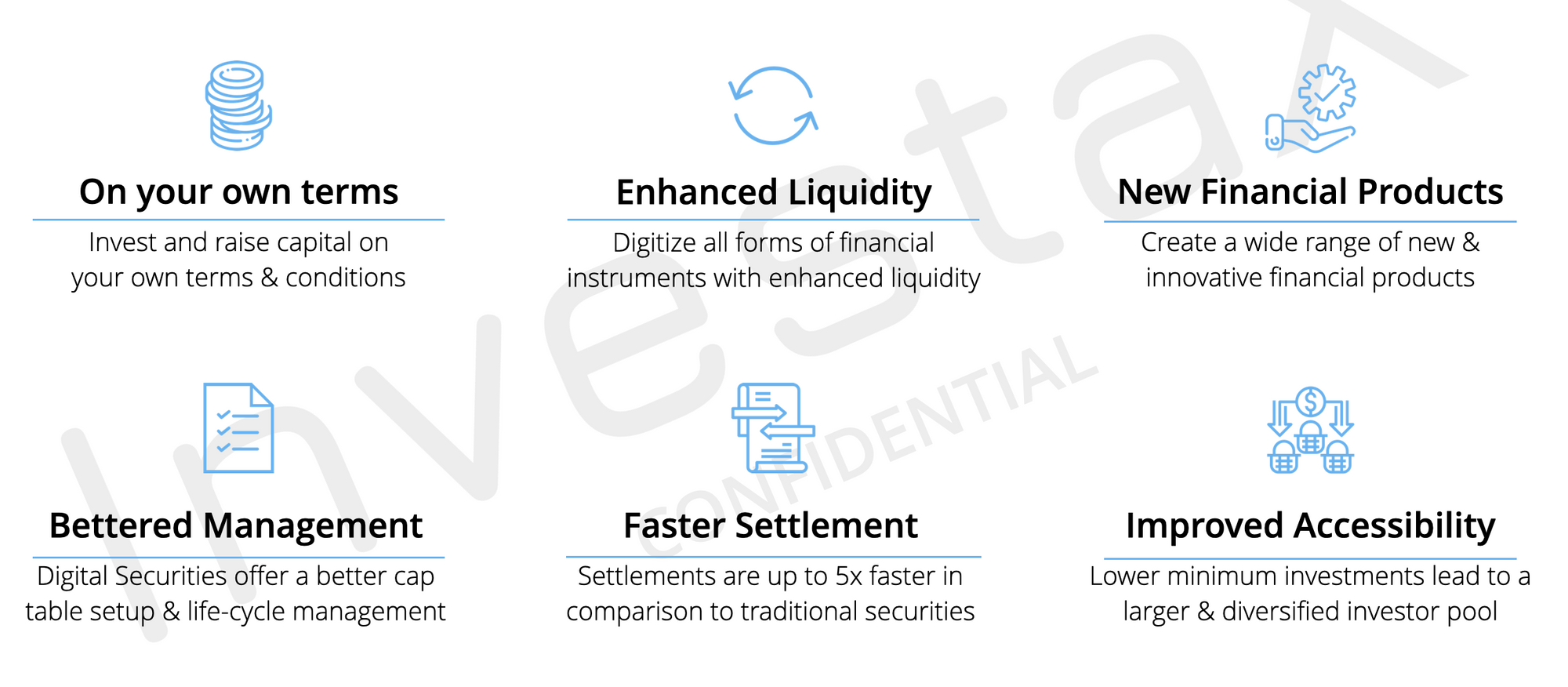 Additionally, the best opportunities can only be found on the ground with a team of local experts. Smaller but more nimble funds can achieve higher returns than the broader market and larger funds. Due to their size, large funds overlook many of the best mid-market opportunities as they are just "too small" for the multibillion-dollar funds to work on.
We are excited to announce this partnership and our the latest in technology + capital markets.
If you have any questions about InvestaX or Charismatic Capital please email support@investax.io
Disclaimer
The above information is for discussion purposes only. It is not, and may not be relied upon, as investment advice or an offer to sell or a solicitation of an offer to sell or a solicitation of an offer to buy any security, including any investment or any interest in any Fund or other security. In particular, the information is not sufficient to form a basis for deciding to make any investment. It does not contain material information which may be relevant to any decision to invest, including specific information pertaining to an investment in the relevant securities and important risk disclosures. There can be no assurance and no representation , express or implied, is made that the information is accurate. The information is provided as of the date indicated, is not complete, subject to change, and no obligation is undertaken to revise or update it. Any offer or solicitation of any investment in any security may be made only by delivery of the relevant confidential offering documents. Prior to making any decision to invest in any Fund, you are advised to obtain the Fund's offering documents and to perform your own independent review. Any offer or solicitation of an investment in any securities may be made only to qualified investors in accordance with applicable law.