InvestaX is the leading licensed digital securities issuance, investment, and divestment platform for real estate and private equity.
New technology continues to transform capital markets and typically leads to an explosion of growth as evidenced by the history of traded securities below. Every significant expansion of the capital markets can be attributed to the development of new technology. Read more about the ETF success story here from $11M to $5,000,000,000,000 USD.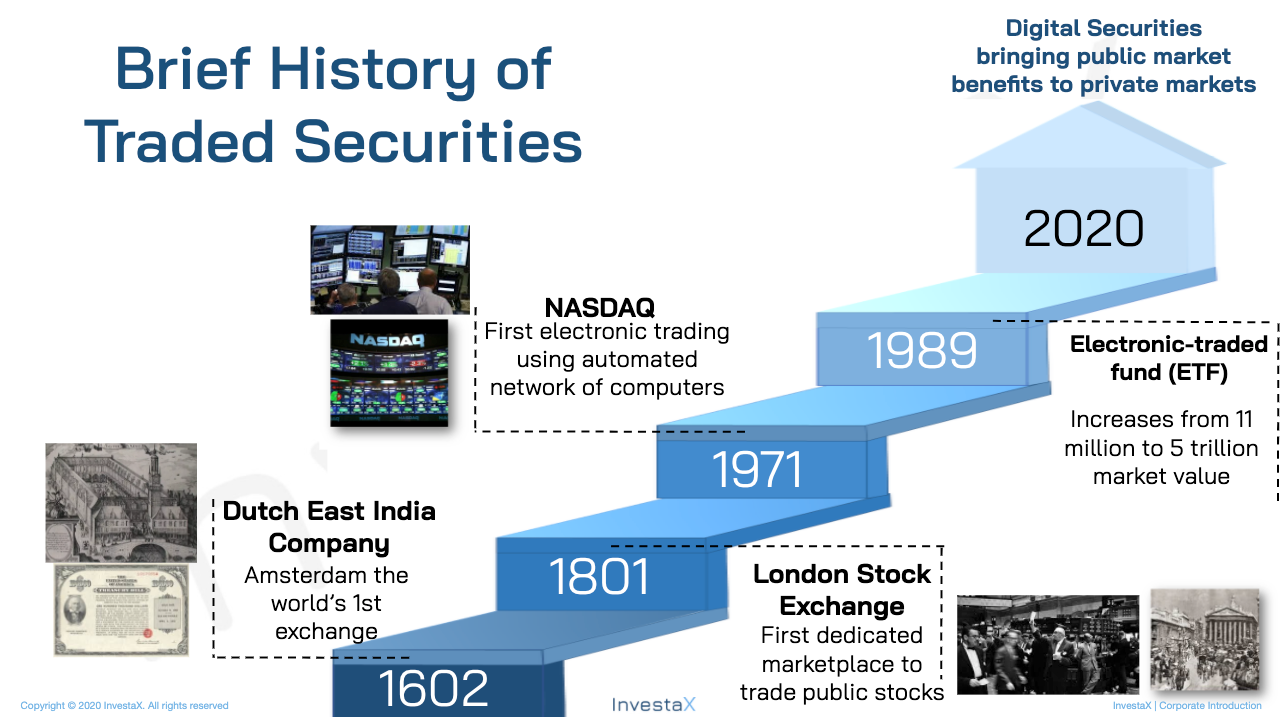 Since 2018, InvestaX and partners, have been investing heavily into the latest technology that we see as the next evolution for private markets which is blockchain, distributed ledger technologies (DLT) and smart contracts. Using this technology, InvestaX is developing new digital investment structures called Digital Security Offerings (DSO). Digital Security Offerings (DSO) allows investors to hold their securities, debt and equity, in a digital format, bringing greater transparency, efficiency and tradeability to their investment holdings. Private markets are still using paper shareholding structures, so a digital security is an inevitable progression and the next major opportunity in capital markets. Here is a simple explanation of how a blockchain works.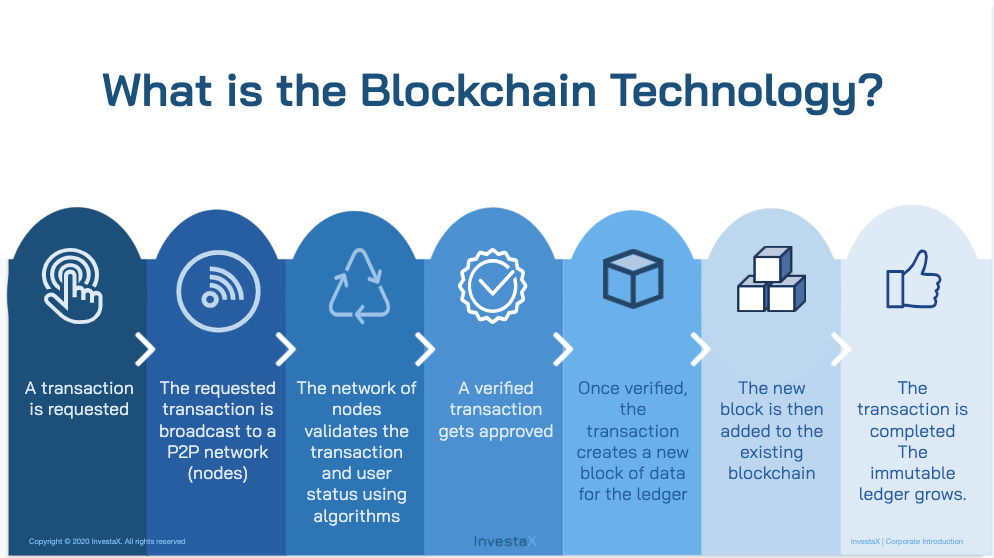 Here is the "recent" history as it applies to capital markets (as there were actually some very smart people working on blockchains even earlier than 2008)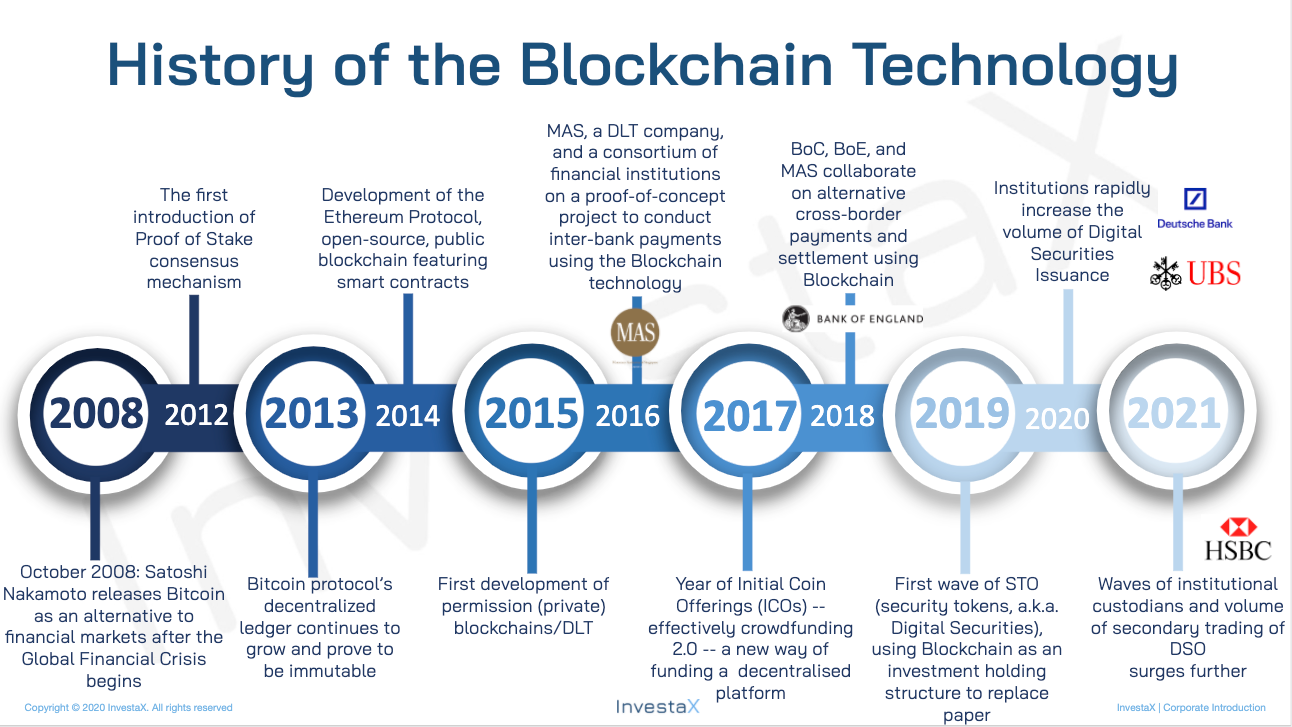 There are only two main types of "blockchains" investors need to understand at this stage, public and private. It is important to note that public blockchains are being adopted by many institutions and the maturation of understanding about what can be programmed into the digital security offering (DSO), makes public chains viable for more institutional projects. This is hugely progressive, as public blockchains are much more scalable and interoperable from a global distribution perspective. InvestaX remains blockchain agnostic, respecting and valuing both, and is currently working with several leading blockchains experimenting, testing and pushing products out to see what the best product-market fit is in each case. Find IBM's breakdown of public vs private for those wanting to read more on this subject.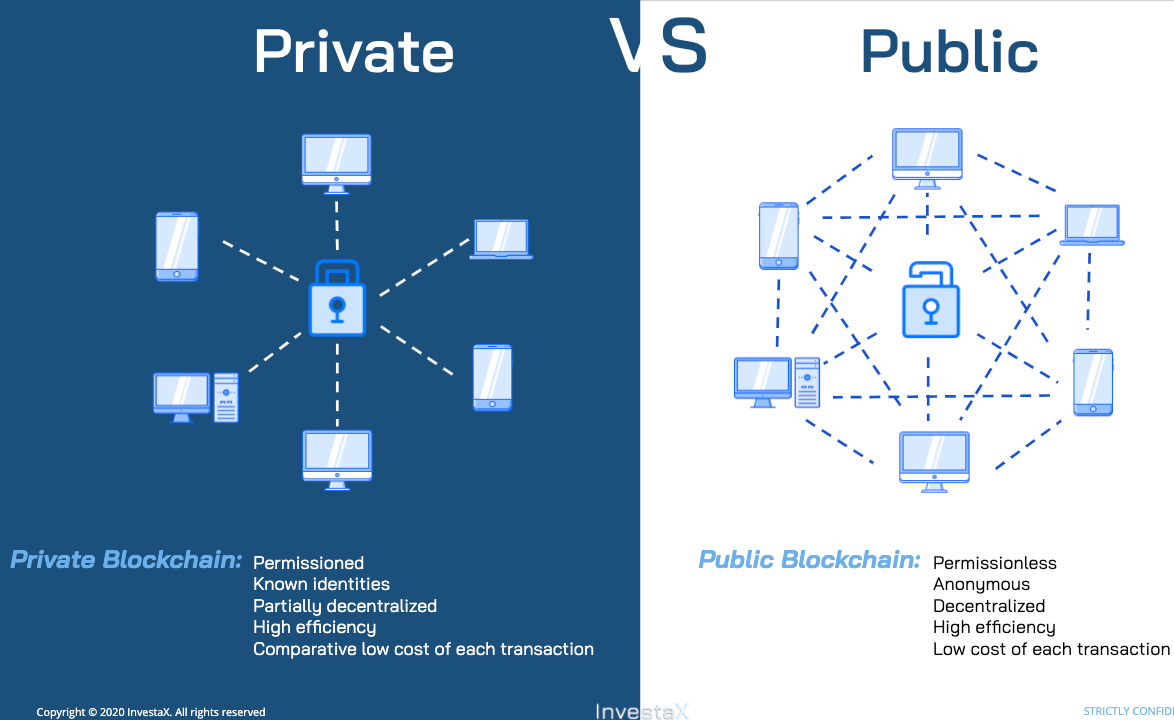 A Digital Security Offering (DSO)

DSO is an offering and sale of securities that are issued and exist on a blockchain, which makes them digital securities. Also known as smart contracts or tokens, the tokenized investment itself carries all the terms of the investment contract.

"It would lay out the obligations of the buyer and the seller, the rights of ownership, any clauses about how the allocation of capital from the asset will be distributed and other pertinent terms and conditions. Those terms are cryptographically embedded into a blockchain transaction. The benefit of this approach is that it enables the contract and the asset to be traded together. The seller turns over their rights of ownership to the buyer and the buyer assumes all the obligations each time the unit changes hands. The smart terms of the contract simply update with each transaction and reassign the underlying owner." Citi Business Advisory Services.

Citibank has the most comprehesive analyis to date on where the digital securities is heading in the "Industry Revolution - Investment Management Report" and we highlight some of their findings below. The ability to bring the exchange of value in real-time and capture different value segments within a particular asset will open up an entirely new world of investment products.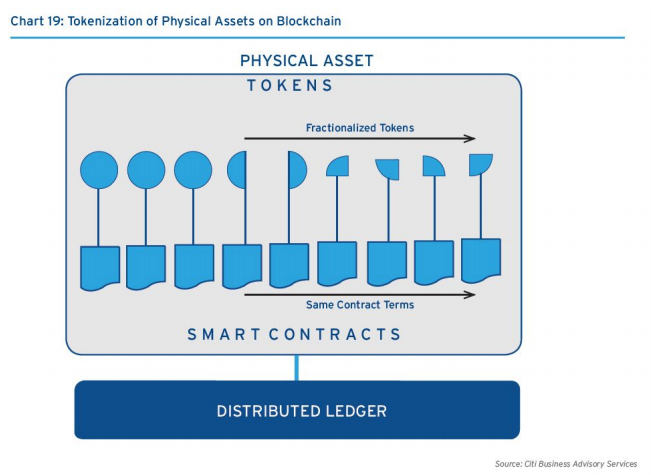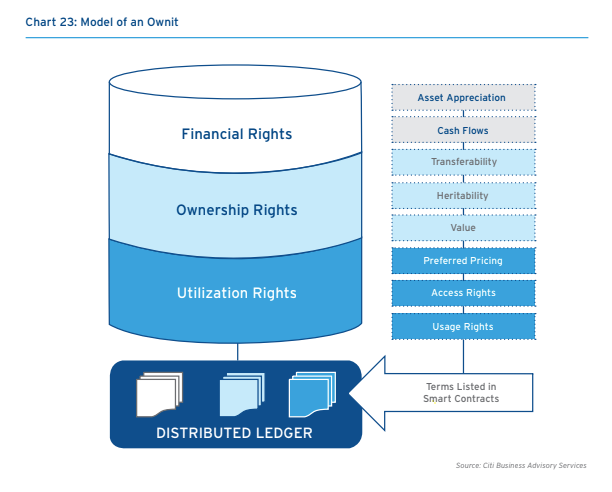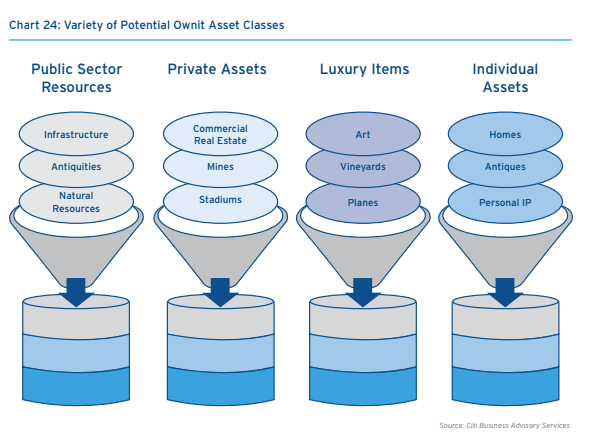 Most leading capital markets institutions have already launched their first digital securities to invest in the technology and process flow to determine where the value lies for their organization and people.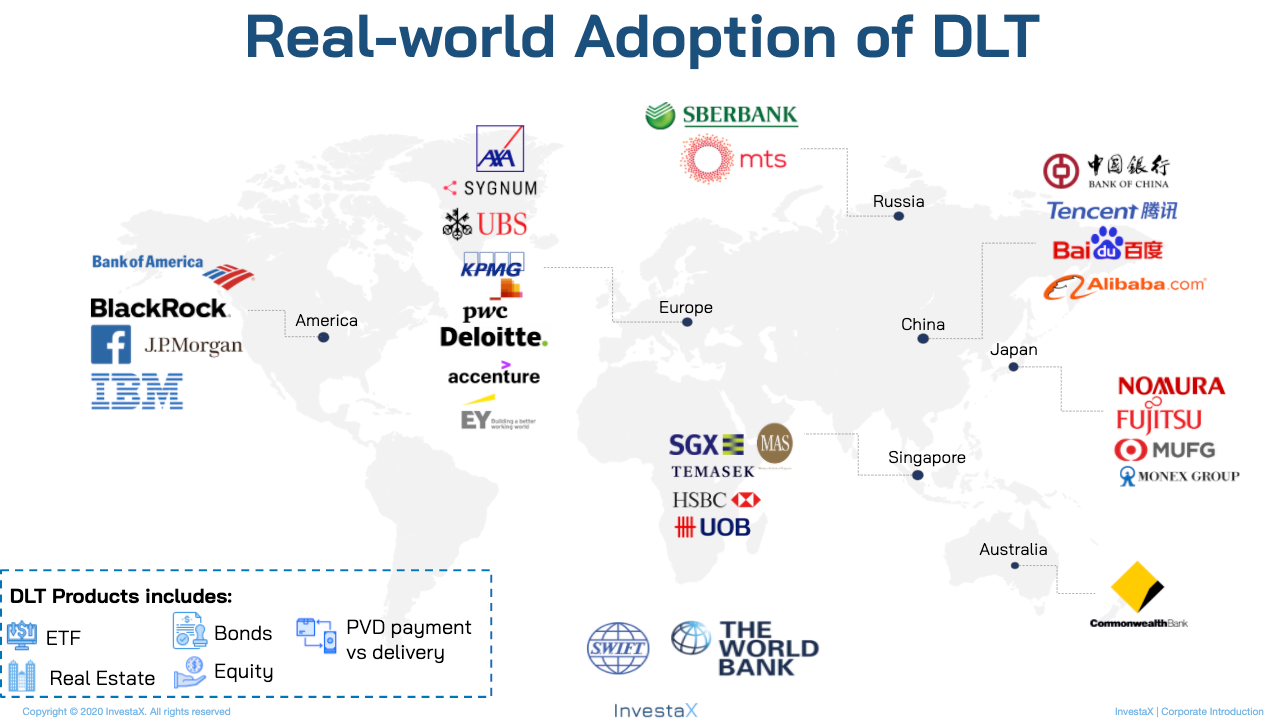 InvestaX and our network of partners provide the key infrastructure required to digitize the private markets. Licensed by the Monetary Authority of Singapore, our digital securities platform offers end to end solutions for the issuance, trading and custody of digital securities for real estate and private equity. We have a proven track record issuing more than 28 private equity offerings jointly valued over $1B USD and had 13 successful exits.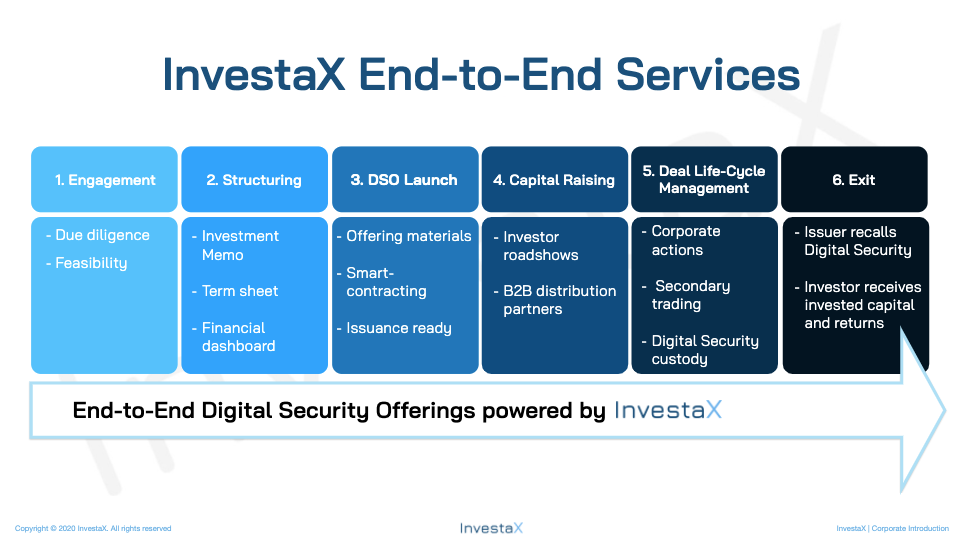 InvestaX is the leading licensed digital securities issuance, investment, and divestment platform for real estate and private equity.
Please join us to get the latest research, news, projects and data on digital securities www.investax.io